Construction Worker Injured In Scaffold Collapse In Jersey City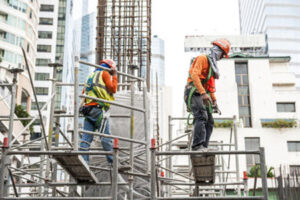 It's common for employees to be injured in the workplace. Injuries are especially common on construction sites. That's because there are so many dangerous elements involved, from heights to heavy materials to power tools and machinery. Construction accidents can lead to a variety of injuries and damages.
A New Jersey man was recently injured in a construction accident in Jersey City. The incident happened on the afternoon of September 20 at 600 Newark Avenue.
The 44-year-old construction worker was injured after scaffolding fell on him. The Jersey City Fire Department found the man pinned under the scaffolding. The man was on the scaffolding at the time of the accident. The man was taken to a hospital with non-life-threatening injuries. He is currently in serious but stable condition.
Nobody else was injured in the scaffold collapse.  The Occupational Safety and Health Administration (OSHA) has been called to investigate the construction site.
Construction Site Accidents
Unfortunately, construction site accidents happen quite often. Despite the fact that construction companies are legally required to follow strict safety guidelines, thousands of construction workers are killed every year. Workers between the ages of 25 and 34 are most likely to be injured in a construction accident. When injuries occur, they are most likely to affect a worker's back, spine, or trunk.
Falls are the most common cause of fatalities in the construction industry. Other common causes of construction accidents include:
Electrocution
Structure collapses
Trench collapses
Equipment and machinery accidents
Falling objects
Crush incidents
Fires and explosions
Heat stroke
Burns
Chemicals
Repetitive motions
Respiratory diseases
While many injured construction workers think they can simply file a workers' compensation claim and receive compensation for their injuries, that is not their only recourse. There are multiple parties who could be held liable for workplace accidents. They include the following:
General contractors. General contractors typically oversee the project and have an obligation to ensure the safety of workers on a construction site.
Property owners. The owner of the land is liable for any injuries sustained by those who are invited onto the property.
Architects and engineers. These workers are responsible for the design of the building. If they fail to uphold the standards, they can be accused of negligence.
In rare cases, a construction accident can be caused by a defect. This can be true for a piece of equipment. If it did not work as intended, then the manufacturer can be held liable.
Contact a New Jersey Personal Injury Lawyer Today
Construction sites are very dangerous, with so much machinery, tools, materials, electricity, and other dangers. Accidents are bound to happen, with some leading to serious injuries.
Construction accidents can lead to extensive damages. Find out what financial remedies are available to you. The Morristown construction accident attorneys at The Law Offices of Michael P. Burakoff will work to help you secure the compensation you deserve. Schedule a free consultation by calling (973) 455-1567 or filling out the online form.
Resource:
nj.com/hudson/2021/09/scaffolding-collapse-sends-man-44-to-hospital-with-non-life-threatening-injuries.html