Driver Charged With Vehicular Homicide For Fatal Hit And Run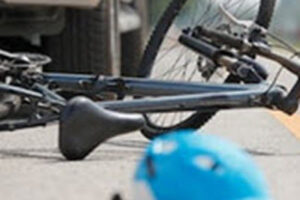 Bicyclists may be getting a lot of exercise, but they face a lot of dangers on the roadways. They share streets with motor vehicles and all it takes is one wrong maneuver to cause a fatal bicycle accident.
Sadly, this was recently the case in New Jersey. A motorist hit a bicycle on Shunpike Road, near Stites Avenue in Middle Township. The bicyclist later died from his injuries.
The incident happened on the evening of September 19. A 21-year-old man hit the bike rider and kept on going. Two miles and seven minutes later, the man then slammed into a parked car in the 300 block of Stagecoach Road. The man fled the accident scene yet again, hitting a retaining wall on Route 47 south, a mile away.
This time, the man fled the accident scene on foot. Police searched for him and later found and arrested him. The man was originally charged with assault by auto, but the charge was upgraded to vehicular homicide after the bicyclist, a 39-year-old man, died at a local hospital the next day.
Besides vehicular homicide charges, the man is also facing charges of endangering an injured victim, knowingly leaving the scene of a crash resulting in death, and obstruction.
Hit and Run in New Jersey
After a car accident in New Jersey, the law requires that drivers immediately stop and remain at the scene. If you flee the scene, that is considered hit and run and it comes with serious penalties, such as fines and jail time.
There are certain rules that New Jersey drivers must follow after an accident. The first step is to remain at the accident scene, even if no other vehicles were involved. You must also provide your name and license and insurance information to any other drivers involved, as well as injured people and police officers.
The penalties for a hit and run vary, based on the damages involved. If the accident results in property damage, the hit and run driver could face a fine of up to $400 and up to three months in jail. The driver may also face a six-month license suspension.
If someone was seriously injured or killed in the crash, then leaving the accident scene becomes an even more serious issue. The driver can face a fine between $2,500 and $5,000 as well as six months of jail time. The driver will also lose their license for one year. The driver can also face criminal charges such as vehicular homicide, as seen in this case.
Contact a New Jersey Personal Injury Lawyer Today
When driving, it is important to follow the rules. When a person does not stop after an accident, they can face criminal charges, especially when serious injuries or fatalities are involved.
If you have been involved in a car accident, you are likely dealing with various damages. Seek legal help from the Morristown bicycle accident attorneys at the Law Offices of Michael P. Burakoff. Call (973) 455-1567 or fill out the online form to schedule a free consultation.
Resource:
nj.com/cape-may-county/2021/10/driver-charged-with-vehicular-homicide-in-hit-and-run-crash-that-killed-bicyclist.html