Can You Challenge the Denial of Your Insurance Claim in New Jersey?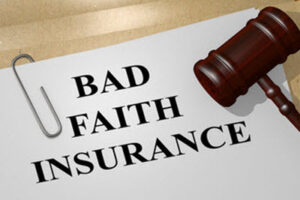 Auto insurance companies routinely deny claims following car accidents. While there are valid reasons to deny an accident claim in New Jersey, policyholders may also deal with bad faith insurance claim denials.
After reviewing your personal injury claim following your crash, an insurer may look for all kinds of reasons to deny coverage. However, if your insurance claim was denied in New Jersey, you should discuss your situation with a skilled insurance bad faith claim attorney. You may still be entitled to compensation even if your claim was denied because a knowledgeable lawyer may be able to challenge the denial or even sue your insurer.
Reasons Why Insurance Companies Deny Personal Injury Claims
There are various reasons why an insurance company in New Jersey may deny your personal injury claim following a car crash:
Your insurance policy has lapsed because you failed to pay the premiums.
You were driving with an expired or revoked driver's license at the time of the collision.
You were impaired by alcohol or drugs at the time of the car crash.
You missed the deadline for filing a claim.
Your own negligence contributed to the accident.
You did not seek medication attention right away.
Your losses and damages are not covered under the policy.
You did not report the crash to the police.
You provided false information when filing an insurance claim.
While some of the aforementioned reasons may warrant a denial, an experienced attorney may be able to help you challenge the denial if your insurer denied your claim for an invalid reason.
Was Your Insurance Claim Denied for a Valid or Invalid Reason?
Arguing that the policyholder contributed to their accident is a common reason why auto insurers deny insurance claims in New Jersey. However, New Jersey law allows injured parties to recover damages even if they were partially at fault for their crash. Many policyholders are not aware of this, which is why insurers often get away with denying insurance claims for invalid reasons.
Even if your insurance company agrees to provide compensation for your personal injury, they may significantly undervalue your claim. Your attorney will be able to review your particular case and determine whether the amount of coverage offered by the insurance company adequately reflects the extent of your damages.
When contacting your insurer to file an insurance claim in New Jersey, keep records of the insurance company's actions as well as your correspondence with the adjuster and other representatives. Also, avoid providing too much information to the insurer, as doing so could potentially hurt your case. It is best to consult with an attorney before contacting your insurance company.
An experienced attorney will be able to gather sufficient evidence to help you obtain the compensation you deserve. Regardless of why your insurance claim was denied, it is never a bad idea to discuss your situation with a knowledgeable lawyer.
Here at The Law Offices of Michael P. Burakoff, our Morristown bad faith insurance claim lawyers will evaluate your particular case and determine whether the denial was valid or illegitimate. Call at 973-455-1567 to schedule a consultation with our attorneys.