Who's Liable for Electrocution Accidents at Construction Sites in New Jersey?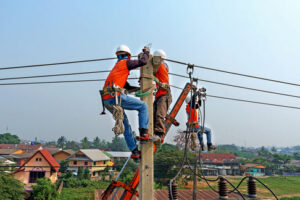 Specific groups of workers working at construction sites, including power installers and electricians, are particularly at risk for electrocution accidents. However, any worker or even a passerby can be exposed to electrical current at a construction site in New Jersey. But who can be held liable for electrocution accidents at construction sites?
Causes of Electrocution Accidents
Electrocution is a common type of construction accidents that result in severe injuries and even deaths. As reported by Law.com, a worker who was severely injured in an electrical accident in Essex County, New Jersey, was awarded a $1.2 million settlement.
Cases like these are not unheard of in New Jersey and other states. But what are the common causes of electrocution and electrical accidents at construction sites?
Negligently grounded wires;
Defective or faulty electrical equipment or instruments;
Inadequate or missing ground fault protection;
Damaged or malfunctioning receptacles and connectors;
Inadequate lighting (or lack thereof);
Unintentional contact with the electrical current;
Defective or faulty wires in extension cords;
Improperly marked construction sites; and
Missing or inadequate warning signs.
There are strict requirements under the Occupational Safety and Health Administration (OSHA) Act that must be followed by property owners, managers, and supervisors at construction sites. Failure to follow these regulations may lead to electrocution accidents and other types of construction site injuries.
Electrocution-Related Injuries at Construction Sites
When a person becomes a victim of an electrocution accident, the severity of his or her injury depends on a multitude of factors. Typically, injuries caused by electrocution accidents range from tingling or prickling sensation to serious injury to death.
The following factors impact the severity of your electrocution-related injury at a construction site:
The voltage of the current;
The amount of time you were exposed to the current;
The presence of moisture or other conductors of electricity;
The condition of your heart; and
The path that the current took through your body.
Burn injuries are the most common type of electrocution-related injury at construction sites. Other types of injuries include:
Thermal contact burns caused by overheated electrical equipment;
Traumatic brain injuries;
Damage to the skin;
Electrical shock;
Paralysis;
Damage to the internal organs;
Cardiac arrest or other heart issues; and
Permanent disability.
Liability for Electrocution Injuries at Construction Sites
When a construction worker sustains an electrocution injury due to their employer's failure to comply with OSHA regulations, they may be able to hold their employer liable for their accident.
Potentially liable parties in electrocution accidents at construction sites include:
The owner of the site;
Construction site managers and supervisors;
Manufacturers, designers, and installers of construction equipment;
Maintenance companies; and
Equipment owners and operators.
Besides filing a third-party liability claim, an injured construction worker may also be eligible for workers' compensation benefits in New Jersey. It is advised to speak with a skilled Morristown electrocution accident attorney to determine liability for your construction site injury. Let our experienced lawyer at The Law Offices of Michael P. Burakoff evaluate your particular case and help you pursue compensation from the liable parties. Call at 973-455-1567 to receive a free initial consultation.
Resource:
law.com/njlawjournal/2020/07/02/worker-injured-in-electrical-accident-gets-1-2m-settlement-in-essex/