Morristown Bad Faith Insurance Claims Attorney
Providing Proper Advice on Insurance Issues to Customers Across New Jersey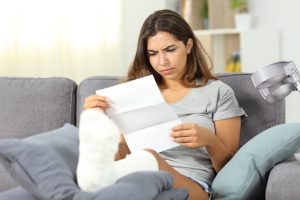 Insurance companies are in business to make money. They will gladly accept your hard-earned money in the form of premium payments. When it comes time to collect after you have been hurt, some companies engage in bad faith tactics that violate the terms of your insurance policy by denying your claims and refusing to pay just and adequate compensation.
At The Law Offices of Michael P. Burakoff, P.A. in Morristown, West New York and Newton, New Jersey, our Morristown bad faith insurance claims attorney will aggressively represent you in effort to hold those companies responsible under the terms of your insurance policy and applicable laws.
If Your Insurance Claim Has Been Denied in New Jersey
At The Law Offices of Michael P. Burakoff, we see clients on a regular basis who have had a legitimate claim denied. Unfortunately, many policyholders accept that as the final decision and abandon their legitimate claims. That is what the insurance companies want you to do. Attorney Michael P. Burakoff will conduct a detailed review of the policy to see if there is a case for a bad faith insurance claim and the extent of the policy violation.
An initial denial of your claim should not be the end when compensation for that claim is provided for in your insurance policy. Aggressive representation from a knowledgeable lawyer is necessary in order to enforce your rights against insurance companies. We know how insurance companies work and when they are engaging in bad faith. Most importantly, we can hold insurance companies accountable and force them to pay just and adequate compensation in accord with the terms of the policy and applicable laws.
When insurance companies violate their fiduciary duty, they may have to compensate you for more than just the money they owed you in the first place. Punitive damages may be available in addition to the compensation you are owed under your policy.
Contact A Morris County Insurance Claims Attorney
For more information or to schedule an appointment regarding bad faith insurance, a third-party claim, or issues related to uninsured or underinsured motorists, please contact us through our website or call us 973-455-1567  to properly file your case and start working on your fair compensation.