Woman Files Product Liability Case Against Dunkin' Donuts Over Spilled Coffee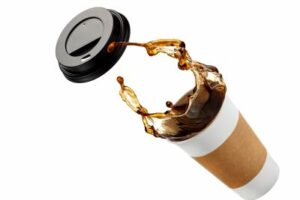 Coffee can be very hot when it is first prepared, and there's nothing worse than having that coffee spill all over you. In fact, such an incident can cause serious injuries, including burns.
This was what happened to a New Jersey woman in August 2021. The woman, from Delran, visited a Dunkin' Donuts drive-thru on Route 130 in Delran, where she ordered multiple coffees as well as food. The woman received her food at the drive-thru window but was asked to wait for her drink order, so she pulled forward.
A Dunkin' Donuts employee handed the woman a tray holder of coffees through her car window. That was when one cup spilled into her lap, causing her to immediately cry in pain. The pain was so severe that the woman began screaming and hyperventilating, causing the other coffee cups to spill into her lap.
In a strange turn of events, the woman then accidentally hit the accelerator pedal while in her vehicle. She ended up partially into the highway, where she jumped out and ripped off her pants. She then called 911, telling dispatchers she was unable to move due to the severe pain she was experiencing.
The Delran Fire Department arrived and saw the woman's skin peeling off her legs. She was taken to the Burn Center at Jefferson Hospital in Philadelphia to be treated for second- and third-degree burns. She still has scars from the burns.
The tray of cups allegedly weighed more than three pounds and the cups were not adequately supported. The paper cup holders were doubled up to provide additional support but that catastrophically failed
In March, the woman filed a lawsuit in Superior Court in Burlington County. She is suing Dunkin' Donuts as well as the employee for negligence and product liability. This is allegedly the first lawsuit of this kind.
However, this is not the first hot coffee negligence case against the coffee shop. In April 2021, a Vineland man filed a lawsuit after he visited a Dunkin' store and was burned after coffee spilled into his lap. He suffered second-degree burns to his thigh and groin areas in the August 2020 incident.
Restaurants need to be mindful of the food and beverages they serve. Coffee is especially risky, as it is often served at dangerously hot temperatures. Because scalding hot coffee can cause serious injuries—as seen in this case—restaurant employees need to be trained on how to monitor and adjust beverage temperatures to keep customers safe and prevent costly lawsuits.
Contact a New Jersey Personal Injury Lawyer Today
When it comes to consumer purchases, safety is a big deal. When a person gets injured, they may have legal options available.
If you have been injured by a company's negligence, a Morristown product liability attorney from The Law Offices of Michael P. Burakoff can help you understand your options. Schedule a free consultation today by calling (973) 455-1567 or filling out the online form.
Source:
burlingtoncountytimes.com/story/news/2022/04/28/new-jersey-woman-sues-dunkin-over-burns-caused-dropped-coffee-tray/9538540002/