Winter Driving Tips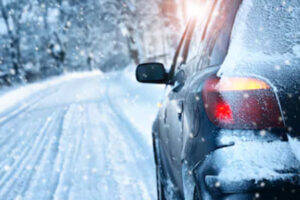 We are now officially in winter. While some people enjoy this time of year, many dread it. Winter brings about fog, ice, snow and rain, all which can wreak havoc on New Jersey's roadways.
Driving in wintry conditions can be dangerous. Every winter, it accounts for approximately 500,000 crashes and 2,000 fatalities. Because of this, it's important to understand how you can stay safe while driving. Here are some tips to avoid car accidents this time of year.
Maintain Your Vehicle
Make sure your car is ready for the colder weather. Check the tires and replace if the tread is too worn. Check to make sure your brakes are working properly. Change the blades in your windshield wipers so you can see better. Another good tip to help you see better is to make sure your headlights are working properly.
Plan Your Route
If you're going somewhere unfamiliar or on a long drive, be sure to plan in advance. Check for road and weather conditions. Check a map so you know the general route ahead of time. Allow plenty of time to get to your destination; don't get in a hurry.
Drive Slowly
Even if the speed limit is 65 miles per hour, you should adjust your driving to match the weather conditions. Going too fast in the ice and snow is a recipe for disaster. You could spin out and hit other vehicles or objects. Even speeding in heavy rain can cause you to hydroplane and lose control. Slow down and take your time.
Increase Your Following Distance
Typically, you should stay 3-4 seconds behind the vehicle in front of you. However, in the winter time, you should increase this following distance to 5-6 seconds. This will give you more room to stop safely in an emergency.
Stay Focused
Now is not the time to be distracted by cell phones, the radio, food and passengers. Keep your eyes on the road so you can anticipate dangers ahead of time. In the winter, it is even more important to be able to stop safely. Make sure you are well-rested and sober before you begin your route.
Stay Home
Avoid taking risks, even if you're a good driver. The best way to stay safe is to simply stay at home. If you don't have to go anywhere, then it's safer to just stay at home and wait for the weather to clear up.
Contact a New Jersey Personal Injury Lawyer Today
The weather outside can be frightful in the winter, and this can lead to serious car accidents. But with proper preparation and good driving skills, you can get to your destination safely, in spite of the rain, snow and ice.
If you are involved in a winter driving accident, seek legal help from the Morristown car accident lawyers at The Law Offices of Michael P. Burakoff. We can assess your case and get you the compensation you are entitled to receive. Call (973) 455-1567 or fill out the online form to schedule a free consultation.
Resource:
exchange.aaa.com/safety/driving-advice/winter-driving-tips/#.X9_NlNhKjIU