Why You Need a New Jersey Lawyer After a Wrong-Way Driving Accident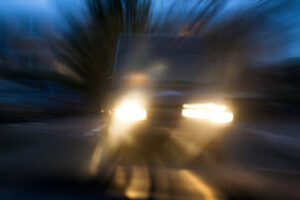 Compared to other types of car crashes in New Jersey, wrong-way accidents are more likely to cause catastrophic injuries and fatalities. Each year, wrong-way driving kills up to 400 Americans. While it may seem that the wrong-way driver is clearly at fault, victims may still need a car accident attorney to help them determine liability and obtain compensation.
The devastating consequences of wrong-way driving, which often leads to head-on collisions, were evident in a recent crash in Hunterdon County, New Jersey.
Wrong-Way Driving Accident in New Jersey
As reported by NJ.com, three people sustained critical injuries in a wrong-way driving incident on Interstate 78 near Union Township. A woman was traveling east in the westbound lanes of I-78 when her vehicle T-boned a pickup.
After the side-impact collision, her vehicle hit another car head-on. Two passengers in the second car were ejected from the vehicle. Both passengers and their motorist were airlifted to Morristown Medical Center. The cause of the accident remains unknown.
The importance of determining what caused a wrong-way driving accident is of great importance in order to recover damages. Often, there may be multiple at-fault parties. While the wrong-way driver is responsible for causing the collision in the majority of such cases, there may be other liable parties (e.g., the automobile manufacturer).
Causes of Wrong-Way Driving Collisions
The vast majority of auto accidents involving a driver traveling in the wrong direction are completely preventable. Most of these crashes would not occur if all motorists followed traffic laws.
Common causes of wrong-way driving incidents include:
Drunk driving (over 60% of all wrong-way crashes resulting in fatalities involve an impaired motorist, according to the National Transportation Safety Board);
Drivers with mental health problems or memory loss;
Drivers who do not understand or do not notice road signs;
Recklessly ignoring traffic signs;
Drivers with vision problems;
Missing or inadequately maintained road signs;
Road hazards;
Vehicle defects that cause the motorist to lose control of the vehicle;
Passing cars on the wrong side; and
Adverse weather conditions.
Why You Need a Lawyer After Wrong-Way Driving Accidents
If you sustained injuries in a wrong-way driving accident, contact a Morristown car accident lawyer to establish fault and seek compensation for your injury. Even if the other driver was driving in the wrong direction, you still have to prove that they were negligent or reckless.
While it may seem that the wrong-way driver is clearly at fault, you need a lawyer to establish a link between the driver's negligence and your injury. While the motorist who drove in the opposite direction when the collision occurred is more likely to be at fault, there may be other at-fault parties, such as an automobile manufacturer in a crash caused by defective brakes.
A knowledgeable Morristown car accident attorney can help you establish fault in a wrong-way driving accident by collecting evidence. Contact our lawyers at the Law Offices of Michael P. Burakoff, P.A., for a consultation. Call at 973-455-1567 to schedule a consultation.
Resources:
nj.com/news/2020/05/3-seriously-injured-in-wrong-way-crash-on-route-78.html
afety.fhwa.dot.gov/intersection/other_topics/wwd/
https://www.burakofflaw.com/new-jersey-saw-fewer-car-accident-fatalities-during-the-covid-19-pandemic/