Who's Responsible for a Slip and Fall Injury on a Public Sidewalk in New Jersey?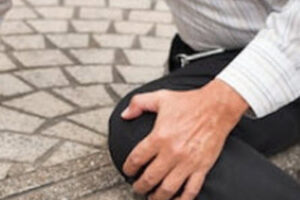 If you slipped and fell on a public sidewalk in New Jersey, you may be wondering, "Can I hold a government entity responsible for my injury?" Unfortunately, the process of recovering damages following a slip and fall accident on a public sidewalk is rather complicated, which is why it is advised to seek help from a knowledgeable personal injury attorney in New Jersey.
Whether a landowner, a municipality or any government entity can be held liable for your slip and fall injury depends on where the accident occurred and who owns or controls the sidewalk.
Liability for Slip and Fall Injuries on a Public Sidewalk
Many municipalities in New Jersey have local ordinances that require homeowners to maintain the sidewalks around their property in a safe condition. Many cities impose fines for those who fail to keep their public sidewalks in good condition.
However, many other municipalities do not have any municipal regulations and merely encourage property owners to eliminate any hazards on their sidewalks and prevent injuries. Interestingly, there is no state law in New Jersey that requires private property owners to maintain the sidewalks around the property in a hazard-free and safe condition.
Also, the Supreme Court has consistently upheld that persons who suffer slip and fall injuries due to hazards or unsafe public sidewalk conditions have limited rights to obtain compensation.
New Jersey's Premises Liability Law and Public Sidewalks
Under New Jersey's premises liability law, residential private property owners are not responsible for injuries that occur on the public sidewalks around their property under most circumstances. However, the same cannot be said about driveways and walkways that are on private property.
In New Jersey, property owners can be held liable for slip and fall injuries caused by dangerous conditions on their property if the conditions occur due to the owner's negligence. Property owners owe a duty of care to people entering the property. Thus, when maintaining their property, owners must warn visitors of any hazards and eliminate all unreasonable hazards that could cause injury.
If your slip and fall injury occurred on a sidewalk in front of commercial property, you might be able to file a claim against the person or entity that owns the property. In New Jersey, owners of commercial properties have a higher degree of care than owners of private properties and homes.
It is the legal responsibility of the commercial property owner to maintain areas around their property, including parking lots and walkways.
Can a Municipality Be Held Liable for Slip and Fall Injuries That Occur on Public Sidewalks?
As a general rule, municipalities and other government entities in New Jersey cannot be held liable for slip and fall injuries that occur on public sidewalks and other public areas such as parking lots, walkways, and others.
Under New Jersey's Revised Statutes Title 59, in most circumstances persons cannot pursue premises liability claims against public and government entities such as municipalities and cities. However, consult with a Morristown premises liability lawyer to review your particular situation and determine liability for your slip and fall injury on a public sidewalk. Contact The Law Offices of Michael P. Burakoff to schedule a free initial consultation. Call at 973-455-1567 today.
https://www.burakofflaw.com/protecting-yourself-from-premises-liability-as-a-property-owner/