Liability for Amusement Park Injuries in New Jersey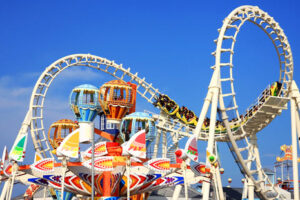 On a sunny and warm day in summer, a trip to a water or amusement park is a great way to create life-long memories and have fun with your family. Unfortunately, amusement park accidents are not uncommon, and visitors, including small children, can suffer serious injuries, including:
Traumatic brain injuries (TBIs)
Spinal cord injuries
Broken or fractured bones
Paralysis
Lacerations, bruises, and scrapes
Soft tissue injuries
Many amusement park accidents occur due to defective or inherently dangerous equipment, inadequate supervision, missing or improper warning signs, malfunctioning or faulty rides, and other forms of negligent, careless, and reckless conduct on the part of the amusement park owner or other liable parties.
A skilled premises liability attorney can help you identify the cause of your amusement park accident in order to determine liability in your particular case.
Amusement Park Accident in New Jersey
As reported by The Daily Voice, a woman was airlifted to Morristown Medical Center after she suffered a severe injury on a water slide at the Land of Make Believe in Warren County, New Jersey. The woman went unconscious when the accident occurred but was fully conscious before she was airlifted to an area hospital in Morristown.
According to initial reports, the woman may have sustained a traumatic brain injury and was unable to feel her legs after the amusement park accident. The amusement park owner has the legal obligation to ensure that all safety codes and industry standards are met and make sure all rides and equipment are properly maintained to prevent amusement park accidents.
Also, the owner of an amusement park must ensure that all of its employees and staff have been properly trained and know how to supervise visitors to avoid accidents that could cause personal injury.
Causes of Amusement Park Injuries in New Jersey
Amusement park accidents are bound to happen when the owner or operator fails to adhere to all recommended safety practices, industry standards, as well as properly inspect and maintain their rides.
However, amusement park injuries can also occur when rides or their equipment is defective or inherently dangerous. In that case, the injured victim may be able to pursue a product liability claim against the ride manufacturer. Also, a third-party entity that was hired to conduct inspection and maintenance may be held liable for amusement park injuries.
Common causes of amusement park injuries in Morristown and other parts of New Jersey include but are not limited to:
Inadequate or lack of supervision
Improper employee training
Defective or faulty safety restraints
Improperly maintained equipment
Negligent ride operation
Slip and fall hazards
Exposed electrical wires
Inadequate security
Loose cables
Excessively crowded areas
Failure to enforce ride rules
Amusement Park Injuries and Premises Liability Law in New Jersey
Under New Jersey's premises liability law, amusement park owners and operators are required to inspect all rides and remedy any conditions that might lead to injuries. Since amusement park visitors are classified as "invitees" (because they are on the property for some business purpose), amusement park operators are held to a higher standard of care.
Also, amusement parks in New Jersey must comply with strict regulations imposed by the New Jersey Carnival and Amusement Ride Safety Act. Among many other things, the Act requires operators to conduct annual inspections of all amusement rides on-site to ensure that their rides pass safety regulations.
Do not hesitate to speak with a knowledgeable Morristown premises liability attorney if you were injured in an amusement park accident. Contact our lawyer at The Law Offices of Michael P. Burakoff for a case evaluation. Call at 973-455-1567.
Resource:
dailyvoice.com/new-jersey/ridgewood/police-fire/woman-airlifted-after-waterslide-injury-at-nj-amusement-park-land-of-make-believe/790821/
https://www.burakofflaw.com/whos-responsible-for-a-slip-and-fall-injury-on-a-public-sidewalk-in-new-jersey/