The Truth about low-impact accidents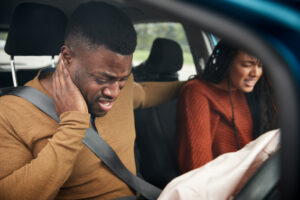 Low-Impact Accidents and Serious Injury Attorneys Morris County NJ
Trusted Car Accident Injury Attorney Serving Clients Across Morris and Sussex County with Offices in Morristown and Newton NJ
One of the most common mistaken beliefs about motor vehicle accidents is that low impact collisions where an individual may not receive direct impact to their body cannot cause serious injury. This couldn't be further from the truth. Though, low-impact car accidents, typically "fender benders," are common, they can be the cause of some serious injuries. Even when these accidents only cause minimal physical damage to the vehicles, the occupants may not be so lucky.
Whiplash is one of the most common injuries drivers or passengers suffer. Often it occurs when a vehicle is struck from behind by another vehicle. The sudden rear impact can cause hyperextension of the neck. As the seat pushes the occupant's midsection forward the head and neck fall back. As a result, the head and neck can enter hyperflexion as they attempt to return to a normal position.
Lumbar spine injuries can occur even in low impact collisions. The lumbar spine is made up of the five largest vertebrae as well as the strongest of the muscles of the spine. A sprain to the lumbar spine is often particularly painful and may result in limited mobility, swelling, bruising as well as tenderness, and may severely hinder your ability to perform daily activities.
Herniated discs are not uncommon in low impact motor vehicle accidents. A herniated disc occurs when a disc is displaced and can occur when the neck and spine enter a whiplash effect. A herniated disc can place pressure on the spinal cord or its surrounding nerves causing intense pain.
Spinal Cord Injuries, though not usual in low impact collisions, have been known to occur. These injuries can range from the bruising or excessive pressure to permanent damage to the spinal cord and nerves. Spinal cord injuries can result in total or partial paralysis, loss of sensation in areas of the body in addition to the loss of reflex function.
Common Symptoms of Low Impact Neck and Spine Injuries
It is important to note that injuries to the neck and head may not manifest themselves until days or weeks after an accident. Furthermore, some symptoms may not be obvious even when they are connected to serious medical conditions.
Common symptoms may include:
Pain and stiffness
Numbness and tingling
Clicking/grating
Though a mild case of whiplash will heal with time and treatment, in some cases, injuries sustained in relatively low-speed impacts can be serious enough to require surgery. Due to the fact that some of these soft-tissue injuries may not show up on an X-ray, accident victims may have to fight for the compensation they need to recover.
The Value of an Experienced Attorney is Morristown Low-Impact Injury Cases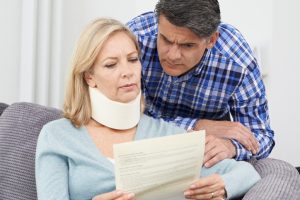 Those who suffer serious and long-lasting neck and back injuries as a result of low-impact accidents may face many obstacles on the road to obtaining fair compensation needed for recovery. For this reason, proper legal counsel is critical to securing damages for their medical expenses, lost wages, as well as pain and suffering.
In these cases retaining an experienced and skilled personal injury attorney is crucial. The use of experienced medical specialists, as well as other specialists, will be needed to establish your injuries and how the accident caused your injuries. An attorney who has the resources, expertise and a record of successfully handling cases involving serious injuries resulting from low-impact accidents will understand how to build you the strongest case possible in order to negotiate a fair settlement for you.
Contact a Morris and Sussex County Motor Vehicle Accidents Attorney
Personal injury attorney Michael Burakoff  has extensive experience representing the victims of motor vehicle accidents. He will help you organize your claim and negotiate a fair settlement amount.
From our NJ offices, we represent injured people in Morris County, Sussex County, including Newton, Morristown, Hopatcong, East Hanover, Mt. Olive, Parsippany, Netcong, Rockaway, Roxbury, Morris Plains, Dover, Florham Park, Allamuchy, Denville, Chatham, and more.
If you or someone you love got into a car accident, contact us online or by phone by calling 973-455-1567 to schedule a free and no-obligation initial consultation.