Slips, Trips and Falls in the Workplace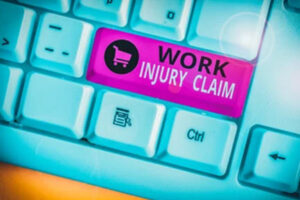 A person can slip, trip and fall in a variety of situations, but these incidents often happen in the workplace. These workplace accidents can lead to a variety of injuries. In some cases, they can even lead to death.
A slip occurs when you lose your footing. A trip is when your food catches on or in something. A fall happens when you come down suddenly. Slips, trips and falls can be caused by spills, rain, ice, snow, loose mats and rugs. Clutter and poor lighting can also cause a person to trip or fall. A fall can lead to a variety of injuries, including bruises, bumps, scratches and more serious injuries, such as fractures, head trauma, and back and neck injuries. While most falls happen on the same level, many happen from a height, which is often the case in construction accidents. Falls can be fatal. In fact, falls are the third most common cause of injury-related death.
In 2018, 27% of nonfatal work injuries that led to time off from work were caused by slips, trips and falls. They are common in warehouses, restaurants and retail stores, although they can happen anywhere, even in offices.
How to Stay Safe
It's important to keep yourself, your co-workers and your customers safe. You can do this in many ways. First, be on the lookout for spills. Spills are one of the most common causes of slips and falls, so be aware of them and clean them up immediately.
Also, look out for tripping hazards. Clutter can cause someone to trip and fall easily, so keep walkways clear and remove items that don't belong. Look for empty boxes, cords and debris.
Stairs are a hazard. Be careful when going up and down steps. Take it slow and use handrails.
Ladders are a common cause of falls. When using a ladder, make sure it opens fully before stepping on it. If the ladder seems slippery, wipe it off. Only use ladders on flat, stable surfaces and never exceed the load limit.
If you use rugs and mats in the workplace, make sure they are taped down. If they bunch up, a person can trip over them and fall.
Lighting is also important at work. Commonly used areas should be well-lit at all times. Burnt-out light bulbs should be replaced as soon as possible.
Employees should wear proper footwear. Shoes with nonslip soles are recommended, although you may want to check with your employer to determine the best footwear for your situation.
Contact a New Jersey Personal Injury Lawyer Today
Slips, trips and falls may seem like minor occurrences to some people, but they can cause serious injury and even death. That's why workplace safety is crucial.
Were you injured at work by a dangerous condition? If so, seek legal help from the Morristown work-related accident attorneys at The Law Offices of Michael P. Burakoff. We can help you with the process for getting a full and fair recovery. To schedule a consultation, call (973) 455-1567 or fill out the online form.
 Resources:
nsc.org/workplace/safety-topics/slips-trips-and-falls/slips-trips-and-falls-home
cdc.gov/niosh/injury/fastfacts.html