NJ Candy Company Recalling Products For Possible Salmonella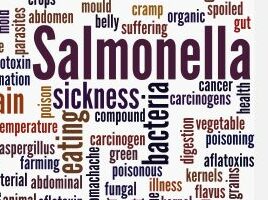 Many of us love chocolate and nothing would be worse than getting sick from it. Unfortunately, this could be a possibility for those who have eaten Kinder chocolate products.
New Jersey-based Ferrero U.S.A. Inc., which manufactures the popular chocolates, has recalled some of its products due to possible salmonella contamination. The recall was issued as a precautionary measure after it was discovered that the candies were made in a facility where Salmonella Typhimurium was found.
What Products Were Recalled?
There are two recalled items in question. The first one is the Kinder Happy Moments Milk Chocolate and Crispy Wafers Assortment. It is packaged in a 14.1-ounce square box with a lid. The best by date is July 18, 2022 with a lot code of 48RUP334, 48RUP335, 48RUP336, and 48RUP337. This information can be found on the back panel of the product. The UPC number, 09800 52025, is located on the right side of the product package. This item was sold at Costco stores in California and Nevada, as well as BJ's Wholesale Club Stores.
The other recalled item from Ferrero U.S.A. is Kinder Mix Chocolate Treats Basket. This product is packaged in a 5.3-ounce cardboard basket. The best by date is July 30, 2022 and the lot code is 03L 018AR – 306. Both numbers can be found on the bottom of the basket. The UPC number is 09800 60209. This product was sold at various Big Y Supermarket locations throughout Connecticut and Massachusetts.
These are the only two products included in the recall at this time. No illnesses have been reported in association with these contaminated products.
What Should You Do Next?
If you have recently purchased these products, check the best by dates, lot codes and UPC numbers listed above. If they match, do not eat the chocolates. You have the option of returning them to the store for a refund or throwing them out in a sealed package to prevent consumption.
Salmonella Symptoms
Salmonella poisoning is a bacterial illness that lives in the intestinal tract. Some people have no symptoms at all, while others develop them 8-72 hours after exposure. It is often mistaken for the stomach flu. Most people who develop salmonella poisoning recover within a few days even without treatment.
Salmonella poisoning is rarely fatal, but it can cause serious side effects. Some common ones include:
Diarrhea
Fever
Chills
Abdominal pain
Dehydration
Fatigue
Contact a New Jersey Personal Injury Lawyer Today
Defective and contaminated products are unsafe for consumers. Users can get seriously ill or injured, causing them to suffer extreme medical conditions or even die.
At The Law Offices of Michael P. Burakoff, we understand how poorly designed or contaminated products can cause serious effects. A Morristown product liability attorney can help you hold the manufacturer liable for their actions. Schedule a free initial consultation with our office by filling out the online form or calling (973) 455-1567.
Resource:
foodpoisoningbulletin.com/2022/some-kinder-chocolate-products-recalled-for-possible-salmonella/