Bicyclist Killed In Crash With Pickup Truck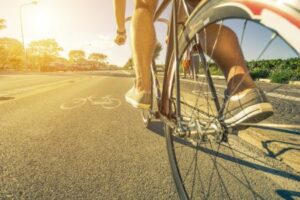 Riding bikes is a favorite pastime of many children. Bicycles provide fun and adventure for kids who cannot yet legally drive, plus they allow riders to get to school, friends' houses, and other desirable destinations.
However, bicycles are small and can be unpredictable. These issues make accidents more likely, and unfortunately, a crash with a passenger vehicle can be deadly.
Sadly, this was recently the case in New Jersey. The fatal accident occurred on the evening of April 2 at the intersection of 3rd Street and Fulton Avenue in Bridgewater.
A GMC pickup truck was heading north on Fulton Street when the driver, a 22-year-old woman from Bridgewater, hit a bicycle at the intersection. The bike rider, an 11-year-old girl, was taken to Robert Wood Johnson Hospital Somerset, where she later died. The accident is still under investigation.
Kids and Bicycles
Unfortunately, kids and bicycles are not the safest combinations. Statistics show that hundreds of children are injured on bikes every day. This number is even higher in the summer, when kids are out of school and enjoying sunny days. The most common injuries include cuts and bruises to the upper extremities as well as traumatic brain injuries. Brain injuries account for more than 10% of bicycle injuries.
Other common injuries include:
Broken bones. Broken legs, arms, wrists, and ribs are common as a rider crashes and hits the pavement.
Facial injuries. Injuries to the face are common, especially if the rider is not wearing a helmet. Common injuries include broken teeth, a broken nose, a broken jaw, or eye or vision damage. A rider can also suffer permanent damage from road rash.
Bodily trauma. A bike rider can suffer trauma to virtually any part of the body. They can suffer whiplash and other soft tissue injuries. Torn ligaments and muscles are also common.
Back injuries. Extreme force can cause a rider to land on their backs or roll after a crash, causing herniated discs and other damage to their spinal columns. Severe trauma can lead to paralysis.
As seen in this case, death is common, especially when a bicycle is hit by a motor vehicle at high speeds. Contact a lawyer to file a wrongful death claim and recover compensation.
The accidents were most likely to occur at the home or on a nearby street. Those between the ages of 10 and 14 years old are most likely to suffer injuries. That's likely because this age group was most likely to not wear a helmet. Boys were much more likely to be injured than girls.
Contact a New Jersey Personal Injury Lawyer Today
While many young children ride bicycles on a regular basis, these modes of transportation are not always safe. Vehicles can hit bicycles and cause serious injuries and damage.
A Morristown bicycle accident attorney from The Law Offices of Michael P. Burakoff can help you if you have been injured on New Jersey's roadways. To schedule a free initial consultation, call (973) 455-1567 or fill out the online form.
Resource:
yahoo.com/now/young-cyclist-dies-being-struck-144917124.html