New Jersey's New Safe Passing Law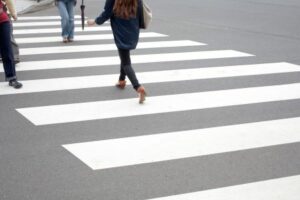 It seemed as though people didn't travel as much in 2020 due to COVID restrictions. People were quarantined and many were laid off or forced to work remotely, so they spent a lot of time at home.
If people weren't driving as much in New Jersey, the statistics sure didn't reflect that. Fatal car accidents increased to 587 in 2020, up from 558 the previous year. Fatal bicycle and pedestrian accidents are also on the rise.  The number of bicyclist fatalities went up from 12 to 18.
While these statistics are upsetting, the good news is that lawmakers are taking notice. New Jersey Governor Phil Murphy signed the New Jersey Safe Passing Law on August 5. The goal of this bipartisan bill is to increase the safety of bicyclists  and pedestrians in New Jersey.
What is the New Jersey Safe Passing Law? 
The law mandates that motorists must move over one lane when passing cyclists or pedestrians, as well as those riding electric scooters or in wheelchairs.. If they cannot move over one lane, there must be a minimum of 4 feet of space between the vehicle and the pedestrian or bicyclist. If it's not possible to allow 4 feet of space, the driver must then slow down to 25 miles per hour.
There are penalties in place for those who fail to follow the law. They could face fines of $100. Those who fail to comply and cause bodily injury as a result can face fines of up to $500 as well as two points on their driving record.
Pedestrian Safety
While this law is now in place, it doesn't mean that the streets of New Jersey will suddenly be safer. Many people may not be aware of the law and those who are may choose not to follow it. Many motorists feel as though bicyclists don't belong on the roadways, so there is a lot of aggression toward them.
Because of this, pedestrians and bicyclists should be proactive and take the necessary steps to stay safe. Here are some tips to keep in mind:
Follow traffic laws at all times.
Use sidewalks when available.
Stay alert and focused at all times.
Stay off your phone and avoid other distracting behaviors.
Make eye contact with drivers before crossing the street.
Look both ways before crossing a street.
Try to make yourself visible by wearing bright clothing or using a flashlight at night.
Watch for cars in driveways and parking lots.
Avoid alcohol and drug use, as they impair judgment.
Contact a New Jersey Personal Injury Lawyer Today
Fatal motor vehicle accidents are common in the state. Pedestrians and bicyclists have no protection in the event of a crash, so hopefully the new law will help save lives.
The Morristown pedestrian accident attorneys at the Law Offices of Michael P. Burakoff takes pride in protecting your legal rights. If you have been involved in a pedestrian or bicycle crash, let us help you get the compensation you deserve. To schedule a free consultation, fill out the online form or call (973) 455-1567.
Resource:
natlawreview.com/article/new-jersey-s-safe-passing-law-aims-to-protect-cyclists-and-pedestrians-road