New Jersey Woman Injured After Getting Sucked Into Manhole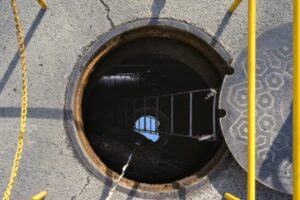 When we walk down a street, we don't expect to encounter any issues that could affect our safety. While it's possible that a person could slip and fall, nobody thinks that they will suddenly get sucked down a manhole.
This weird situation recently happened in East Orange, New Jersey. A woman was walking home on the evening of July 25 when the ground under her feet opened up without warning. The woman then got sucked down into a manhole.
The woman screamed and used all her strength to keep from going down into the manhole. Luckily, her neighbors heard her and were able to rescue her.
The woman suffered various bumps and bruises on her legs from the struggle. She said that her entire right side was inside the manhole and she tried desperately to make sure the plate didn't move from under her and cause her to fall in.
Apparently the cover for the manhole rises when it rains. This ends up being a hazard for anyone walking on the sidewalk. Crews have been working on the problem. They found muddy, stagnant water that was not draining properly. The City of South Orange is investigating the incident and hopes to make repairs soon before this happens to someone else.
The woman claims she has seen the water come up and take off the manhole cover in the past. She also says that two other neighbors have fallen into the manhole.
Liability for Manhole Cover Accidents
When we get injured on someone else's property, it becomes a premise liability issue. The same goes for manhole cover accidents. There are several ways in which manhole cover accidents can occur:
Pedestrian accidents. When a manhole cover on a road or walkway is loose or open, pedestrians can trip over them or fall into them.
Motor vehicle accidents. An open manhole on a street can cause a driver to lose control of their vehicle. They may swerve and end up hitting other cars. Loose manhole covers that are loose can roll away and hit vehicles or pedestrians.
Construction worker accidents. A construction worker might be injured when they fall or trip during a manhole accident. In addition, a construction worker may cause an accident by not having a manhole cover replaced properly and securely after finishing repair work. In these cases, the construction company could be held liable.
Contact a New Jersey Personal Injury Lawyer Today
Nobody expects to be sucked down a manhole while walking down the street. It is a serious incident that fortunately did not result in any long-term injuries.
Have you been injured due to a dangerous condition on someone else's property? If so, a Morristown premises liability attorney from The Law Offices of Michael P. Burakoff can help determine liability. These issues can be complex, so let us assist you in getting full and fair compensation. To schedule a free consultation, fill out the online form or call (973) 455-1567.
Source:
abc7ny.com/woman-falls-in-manhole-south-orange-down-new-jersey/12076965/#:~:text=Woman%20rescued%20after%20falling%20down%20dangerous%20manhole%20in%20New%20Jersey&text=A%20woman%20fell%20into%20a,Orange%2C%20New%20Jersey%20Monday%20night