New Jersey Electrician Suing for $10 Million for Workplace Injuries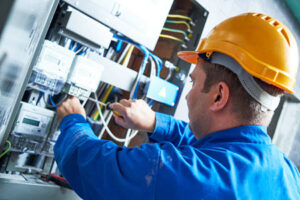 Injuries in the workplace can range from minor to severe. If a person survives, they may experience lifelong injuries, such as burns, amputations and other disabilities.
This was the case for a New Jersey man. The 34-year-old man was severely injured in a workplace accident in May 2019, causing severe burns and amputations. He has filed a lawsuit against several entities and is asking for $10 million.
The man was working as an electrician for McPhee Electric on May 20, 2019, along Exit 109 on the Garden State Parkway. He and another man were electrocuted while feeding an electrical line. The electrocution sent 34,000 volts through his body.
The man suffered severe burns on his body. He also had to have toes and fingers amputated. The man's injuries were considered to be debilitating and permanent. Despite the incident happening more than a year ago, there is a possibility that his injuries will get even worse over time.
The lawsuit involves multiple defendants, including the township of Middletown, Monmouth County, Jersey Central Power & Light, Earle Asphalt Company and McPhee Electric. All are accused of failing to de-energize the live, high-voltage power lines and transformers.  The complaint also alleges that McPhee Electric failed to provide grounding equipment that could have prevented the electrocution from occurring.
Two people were hurt that day. A state trooper Piotr was working nearby when he saw the incident occur. The man and another construction worker were involved in the electrocution.
The trooper discovered that both men were electrocuted and on the ground, unconscious. One man had stopped breathing and the trooper performed CPR on him. The other man regained consciousness on his own. Both workers were transported to the Jersey Shore University Medical Center for medical treatment.
So many people were involved in the lawsuit due to the statute which requires that the lawsuit include anyone and everyone who may have been involved in the incident.
Electrical Accidents
Electrical accidents are some of the most dangerous accidents in the workplace. Electrical accidents can be deadly, so those who survive them often end up with lifelong injuries such as loss of consciousness, traumatic brain injuries, internal and external burns, cardiac arrest and other heart injuries, nerve damage, seizures and tissue degeneration.
While some electrical shock injuries are accidental, they are often caused by negligence. Negligence can occur on the part of employers, building owners, government agencies and electrical companies. Many of these accidents can be avoided if employers would take the time to train employees and make them aware of safety rules and regulations. Many of these accidents are caused by a lack of training, unsafe working conditions and faulty equipment.
Contact a New Jersey Personal Injury Lawyer Today
An employee can suffer injuries while on the job. While workers' compensation benefits are often available, sometimes the injuries are so severe that a person's only recourse is to sue their employer.
If you have suffered a workplace accident, the Morristown work-related accident attorneys at the Law Offices of Michael P. Burakoff can help you with your financial and physical recovery. Schedule a free initial consultation today by calling (973) 455-1567 or filling out the online form.
Resource:
app.com/story/news/local/red-bank-middletown-area/middletown/2020/11/09/electrician-amputated-lawsuit-monmouth/6048344002/