Man Killed After Electrocution, Fall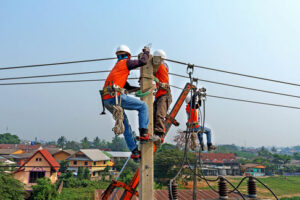 The workplace is supposed to be safe. Nobody wants to be injured or killed while performing their work duties, but it happens quite often. This recently happened to a New Jersey man, who was killed after being electrocuted.
The fatal accident occurred on the afternoon of July 11 at the Middletown Village Mall. located at 1040 Highway 35 in Middletown. It is believed that the man was electrocuted while operating a scissor lift, causing him to fall.
Middletown Police arrived at the mall after receiving a 911 call of a workplace accident. Upon arrival, police officers learned that the man was working outside. He was using a motorized scissor lift to perform work at the site.
When the lift was elevated, it came into contact with electric power lines. The man was electrocuted and fell approximately 20 feet to the ground. When emergency crews found him, he was unconscious.
He was taken to Riverview Medical Center in Red Bank, where he later died. The victim was a 58-year-old man from Brick. This incident is under investigation by the local police department as well as the Office of Occupational Safety and Health Administration (OSHA).
How Electrocution Causes Death
Electrical current enters the body at the point of contact with the power source. This can be direct, such as a person's hand or head touching the power line. A person can be electrocuted either by indirect contact with the power line, such as by touching something the power line touches. The current will then travel through the body until it exits at the nearest point of ground. It will generally take the most direct route.
Electrical voltage from power lines is very powerful and extreme. The voltage ranges from 4,800 volts to 13,200 volts. For comparison, the voltage used in the electric chair for death penalty situations is around 2,000 volts.
If the current pathway travels through the heart, a person can die from electric injury in a number of ways. They include:
The heat of the electrical current can cause burns.
This is a slower than normal heart rate.
Respiratory arrest. This refers to a lack of normal breathing due to failure of the lungs to function effectively.
This is an elevated body temperature due to the body producing or absorbing more heat than it dissipates.
Ventricular fibrillation. This is when the cardiac muscle of the ventricles in the heart quiver rather than contract properly.
Contact a New Jersey Personal Injury Lawyer Today
Contact with electricity is a common cause of construction accidents, injuries, and fatalities. Workers need to exercise extreme caution when around electricity and other dangers.
Contractors, property owners and/or managers can be held liable for workplace accidents. If you have been injured while working on a construction site or other work environment, seek legal help from Morristown construction accident injury attorney from The Law Offices of Michael P. Burakoff. We can help you understand your options for financial recovery. To schedule a free consultation, fill out the online form or call (973) 455-1567.
Source:
patch.com/new-jersey/middletown-nj/man-killed-workplace-accident-middletown-tuesday