Ladder Accidents On Construction Sites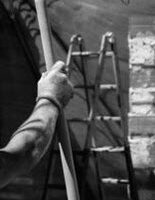 Many people work in the construction industry, but construction sites are known for their dangers. There are so many elements involved, from electricity to heights to heavy walls to power tools to trenches. Any one of these can cause serious injuries or even death.
Many construction accidents involve ladders. The United States leads the world in ladder deaths. Approximately 300 people are killed in ladder accidents every year. Another 164,000 people are injured.
Most ladder accidents involve falls. Most falls occur when a person is:
Unstable and losing their balance.
Failing to properly set up the ladder.
Mounting or dismounting the ladder improperly.
Misstepping while going up or down the ladder.
Overreaching while on the ladder.
Steps for Proper Ladder Use
Reckless ladder use can cause serious accidents. Here are some regulations to keep in mind when climbing ladders on a job site:
Always face the ladder. Whether you are going up or down, you should always face the ladder. Do not turn away from it.
Have three points of contact with the ladder. This means you should either have two feet and one hand or one foot and two hands in contact with the ladder to be safe.
Don't carry anything. You should not be holding anything as you go up or down a ladder. If you must carry tools, keep them on a tool belt—not in your hands.
Have one person on the ladder at a time. There should never be multiple people on a ladder at once, as this can overload it and cause it to tip over.
Keep it stable. Don't exert any force while on a ladder. This means don't make any sudden moves, such as stretching, leaning, or pulling. This can cause you to lose your balance and fall.
Stay centered. Don't keep your body on one side or the other. Keep it right in the middle to avoid getting the ladder unbalanced.
Don't climb too high. On a stepladder or A-frame ladder, climb no higher than the second step from the top. When using a straight or extension ladder, avoid standing on the top three rungs. Never sit on any step.
Be careful when climbing up or down. Stay alert when using ladders. Be aware of your feet as you step on and off the ladder. Make sure you have the proper foothold to avoid missteps.
Contact a New Jersey Personal Injury Lawyer Today
Construction sites are rife with dangers. While ladders may seem easy to use, workers often make mistakes, causing serious injuries to themselves.
In some cases, workplaces and manufacturers may be liable for ladder accidents and injuries. If you have been a victim, seek legal help from the Morristown construction accident lawyers at the Law Offices of Michael P. Burakoff. We will assess your case and help you get compensation for all your damages. Schedule a free consultation with our office today. Fill out the online form or call (973) 455-1567.
Resource:
nachi.org/ladder-safety.htm