Ice, Freezing Rain Causes Multi-Vehicle Crashes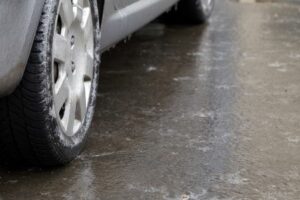 It can be frustrating to drive in the winter. The weather is usually very cold, resulting in ice, rain, snow, and even a combination of these elements. This was what recently happened in New Jersey, resulting in multi-vehicle accidents.
On the morning of January 5, New Jersey saw a mixture of ice and freezing rain, causing slippery roads. This led to many accidents, including one that killed a woman. In a nine-hour span, there were 262 motor vehicle crashes across the state.
The icy roads caught motorists off guard. Temperatures were lower than expected, causing freezing rain. This caused a traffic nightmare, with numerous vehicles spinning out along the New Jersey Turnpike and Garden State Parkway. This led to many accidents. While many were minor, there were a couple serious ones.
In Old Bridge, a garbage truck and Honda Accord collided on Route 34, near Spring Hill Road. The driver of the Honda, a 59-year-old woman from Old Bridge, died at the accident scene.
Also in Old Bridge, a school bus went off the road on Route 18, near Ferry Road. The bus landed on its side, but fortunately, the driver was not injured. There were no students on the bus at the time.
In Monmouth County, 30 vehicles were involved in a crash, injuring seven people. Two suffered serious injuries. The accident happened in Tinton Falls at Route 18 and Route 36. The icy conditions led to the pileup.
In Newark, two police officers were responding to a crash at Route 1&9 and Raymond Boulevard when they were hit by a vehicle. They were taken to the hospital with significant injuries. However, both are expected to recover.
In Hackensack, a school bus was heading to the Bergen County Academies magnet school when it slid on black ice and crashed into a utility pole on Hackensack Avenue. Besides the driver, there were eight high school students and an aide on board. Another bus took the students to school. Nobody was injured in the crash.
In South Brunswick, police responded to 38 crashes involving 50 vehicles that morning. Two people were injured and 12 roads were closed due to the crashes.
What is Freezing Rain?
Freezing rain looks like regular raindrops until they hit a cold surface. The droplets freeze on contact and turn into solid ice. Just a little bit of freezing rain can cause roadways to become very slippery. When freezing rain comes into contact with trees, power lines, and other objects, it can be very heavy, causing objects to fall onto the roadway.
Contact a New Jersey Personal Injury Lawyer Today
Winter weather makes driving unsafe. Ice, snow, and rain can cause loss of control, resulting in deadly car accidents.
If you have been involved in a car accident, the Morristown car accident lawyers at the Law Offices of Michael P. Burakoff can assess your case. Let us determine liability. Schedule a free consultation today by filling out the online form or calling (973) 455-1567.
Resource:
nj1015.com/freezing-rain-ices-up-nj-roads-cops-injured-in-crash-old-bridge-woman-dies/