How is Liability Determined in Morristown Pedestrian Accidents in New Jersey?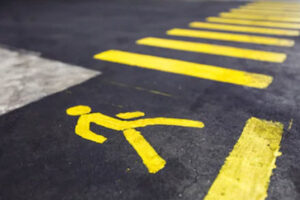 New Jersey is officially the most densely populated state in the nation. Unsurprisingly, this fact alone contributes to the high number of pedestrian accidents and fatalities in New Jersey. Each year, more than 160 pedestrians die in vehicle crashes across the state, accounting for nearly 30% of all traffic deaths in New Jersey.
Accidents involving pedestrians in Morristown and other parts of New Jersey commonly result in catastrophic injuries and wrongful deaths. Typically, victims of pedestrian collisions are entitled to monetary compensation via a personal injury claim, though determining liability may be tricky.
In Morristown alone, there were 73 pedestrian accidents between January 1, 2016, and December 31, 2018. Of these, one led to death, and another crash resulted in serious injury.
New Jersey's Modified Comparative Negligence Law in Pedestrian Accidents
The first step to establishing liability in any pedestrian accident case is determining who had the right of way. If a motorist hits a pedestrian when the latter has the right of way, the pedestrian is likely to recover damages from the negligent driver successfully.
However, if the pedestrian was jaywalking, looking down at his or her phone while crossing the road, or in any other manner contributed to the collision, the amount of compensatory damages will be reduced. New Jersey follows a legal standard of "modified comparative negligence," which looks at each party's fault when awarding damages.
Thus, if a pedestrian is deemed 20% at fault for the collision because he was crossing the street unlawfully, and a jury awarded him $100,000, he would only receive $80,000.
New Jersey's Right of Way in Pedestrian Crashes
Before New Jersey updated its right-of-way law in 2010, motorists had to yield to pedestrians lawfully crossing the street at intersections and in marked crosswalks. Under the current law, drivers must come to a complete stop while pedestrians are in the crosswalk.
However, it is still illegal for pedestrians to suddenly leave a curb and walk or run into the path of a motor vehicle when the vehicle is so close that a reasonable driver would be unable to yield.
New Jersey's traffic law requires pedestrians to use crosswalks and obey traffic signals when crossing roads. When trying to cross where there is no crosswalk, pedestrians must yield the right of way to drivers.
A driver can still be at fault for a motor vehicle collision involving a pedestrian, even if the accident was partially caused by the pedestrian. However, the injured pedestrian is not entitled to any compensation if he/she is deemed more than 50% to blame. 
Other Potentially Liable Parties in a New Jersey Pedestrian Accident
An injured pedestrian may be able to get compensation from other parties – other than the motorist – under certain circumstances. For example, you may be able to file a claim against the town of Morristown or another government entity if it can be proven that the crash was caused by a dangerous road condition, such as a pothole, non-functioning traffic signal, poor street lighting, improperly maintained sidewalk or crosswalk, etc.
Other potentially liable parties may include the manufacturer of the vehicle, which can be sued under the legal theory of product liability. If the vehicle that hit a pedestrian cannot be identified and located following a hit-and-run crash, the only available source of recovery may be the uninsured/underinsured motorist coverage.
Contact a Morristown pedestrian accident attorney to determine liability in your crash. Speak with knowledgeable and results-driven lawyers at The Law Offices of Michael P. Burakoff, P.A., to discuss your case. Call at 973-455-1567 to receive a free consultation.
Resources:
nj.gov/oag/hts/put-brakes-fatality-day.html
tapinto.net/towns/morristown/sections/government/articles/town-of-morristown-improves-pedestrian-safety-through-street-smart-campaign