Erratic Driver Hits 2 Vehicles, Kills Pedestrian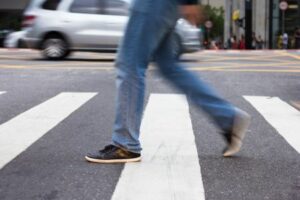 Motorists on New Jersey roadways have a duty to look out for the safety of others. This means they should not engage in reckless behavior such as speeding, running stop signs and stop lights, and hitting other vehicles or pedestrians.
A pedestrian was killed when a reckless driver went out of control in Cape May. The incident happened on the afternoon of May 15, with witnesses calling police about an erratic driver traveling over the Route 109 Bridge and heading toward Cape May.
The driver, a 51-year-old man from Pennsylvania, was speeding and had revved the SUV's engine when he went through an intersection against a red light and hit a pedestrian who was walking on the sidewalk along Lafayette Street. The SUV was about to hit a van when it instead hit the pedestrian, a 63-year-old woman from Marlton. She died at the accident scene.
The SUV driver continued on, hitting a telephone pole and two vehicles. The driver and his passenger, a child, were taken to Cape Regional Medical Center for medical treatment. The extent of their injuries is unknown. It is unknown what caused the driver to lose control. No criminal charges have been filed yet.
What is Erratic Driving?
Erratic driving typically involves driving unsafely and not obeying the rules of the road. Police officers typically look for four main factors:
Speeding and stopping issues. Speeding and stopping issues may involve going too fast or too slow, braking for no reason, and not stopping at crosswalks and intersections.
Judgment errors. Judgment errors involve bad driving decisions, such as tailgating, making illegal turns, or driving in the wrong direction.
Lack of vigilance. This means that a driver is not paying attention to their surroundings. They may be intoxicated or distracted. Examples of lack of vigilance may include driving at night without headlights, not using turn signals, and hitting objects.
Failure to maintain lane. This means that a driver does not stay in their lane position. They may be drifting, swerving, or weaving through traffic.
If a police officer notices any of the above signs, they have reasonable suspicion to pull you over. This means they have reason to believe that you are committing a crime. This is the legal standard required to stop a vehicle, since police officers cannot stop a vehicle for no apparent reason. So if you are accused of any of the above actions, police can pull you over and see if you are intoxicated. You could be asked to submit to a blood or breath test and perform field sobriety tests.
Contact a New Jersey Personal Injury Lawyer Today
Driving is something that needs to be taken seriously. Intentionally or recklessly hitting pedestrians and other vehicles is dangerous and illegal.
If you have been injured in a crash, a Morristown pedestrian accident injury attorney from The Law Offices of Michael P. Burakoff can help. Schedule a free consultation today so we can get started on your case. Fill out the online form or call (973) 455-1567.
Source:
6abc.com/cape-may-nj-woman-killed-lafayette-street-erratic-driver-new-jersey-police/11854325/