NJ Worker Killed In Fall At Construction Site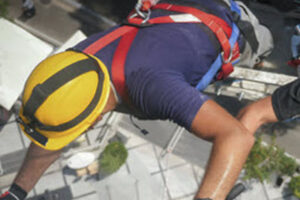 Falls are common on construction sites, as workers often perform their duties from roofs, scaffolds, and ladders. Unfortunately, a fall can be deadly, especially if it happens from multiple stories.
A New Jersey man was recently killed in a construction accident. The fatal accident occurred on the morning of February 11. The 56-year-old man fell eight stories while working on a building in New York City.
The man, originally from Ecuador, was working for F & C Professional Aluminum in the 100 block of Columbia Heights in Brooklyn Heights. The Plainfield man was working on converting the building to luxury apartments when he fell. He landed on a terrace on the second floor. The man died at the accident scene.
The man's death, while devastating, is not surprising. The property has been rife with safety issues since last year. There have been 14 complaints against the building. The New York City Department of Buildings has received complaints for issues such as failure to install vertical safety nets and inadequate guard rails.
KBE-NY is the general contractor for the project. The company has been fined $10,000 twice in the past six months for safety issues.
Staying Safe on Construction Projects
The construction industry can be very dangerous. General contractors, foremen, and employees all need to know how to stay safe while working. Here are some general safety issues to keep in mind:
Educate workers. Construction sites are always in a state of flux. Conditions can change multiple times throughout the day, which is why general contractors and employees need to monitor the job site constantly. Also, before each shift, there should be meetings about hazards, goals, and other things to expect each day so nobody is caught off guard.
Understand the project. Everyone involved in the construction project needs to have a good idea of the work involved. Since there may be multiple groups of workers working in tandem, such as laborers, painters, plumbers, and electricians, everyone needs to know who is responsible for what tasks. Plus, everyone needs to be aware of health and safety hazards and what rules need to be followed to stay safe.
Protect workers. Construction workers often face other lesser known issues, such as problems concerning health and wellness. Substance abuse is very common, as is depression and suicide. It is important that construction companies become aware of these issues and find ways to mitigate them, such as wellness programs.
Contact a New Jersey Personal Injury Lawyer Today
Construction sites are often unsafe. There are heights and many other dangerous elements involved that can lead to serious injuries and even death.
A Morristown construction accident injury attorney from The Law Offices of Michael P. Burakoff can help you get full and fair compensation for your case. We understand how stressful these situations can be for victims and their families. Schedule a free consultation by calling (973) 455-1567 or filling out the online form.
Source:
nj.com/news/2022/02/construction-worker-from-nj-killed-in-8-story-fall-in-nyc-had-purest-of-hearts-family-says.html