Enfamil Infant Formula Recalled Over Bacteria Risk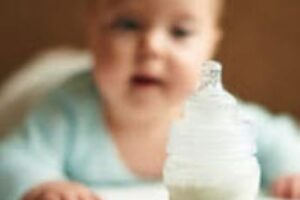 As parents, we want what's best for our babies. So when they consume contaminated products, it can be a terrifying situation.
Two batches of a popular infant formula have been recalled due to possible contamination with bacteria. Approximately 145,000 cans of ProSobee Simply Plant-Based Infant Formula manufactured by Reckitt have been voluntarily recalled due to possible cross-contamination with Cronobacter sakazakii. This bacteria can cause life-threatening infections in newborn babies.
Fortunately, Reckitt says no illnesses have been reported. All of the batches of formula have tested negative for the bacteria, but the company issued the recall as a precaution. It is urging customers who purchased the affected formula to either throw it away or return it to the place of purchase for a full refund.
The recall involved 12.9 oz containers of ProSobee Simply Plant-Based Infant Formula that were manufactured between August and September 2022. They were sold in retail stores throughout the United States, Puerto Rico, and Guam. The two affected batches are ZL2HZF or ZL2HZZ. These batches will have the identifier 300871214415 under the barcode, with a use-by date of March 1, 2024.
The root cause of the bacteria was a material from a third party. Reckitt has taken appropriate corrective actions and is no longer sourcing this material from the supplier. Parents with concerns should contact their pediatrician or Reckitt for more information.
This is not the first time the Cronobacter bacteria has been in the news. It was the same bacteria behind the Abbott Nutrition formula recalls that happened in 2022. These recalls led to a nationwide baby formula shortage.
Cronobacter germs can live in dry foods like infant formula or powdered milk. Because powdered infant formula is not sterile, it's better to use liquid formula if possible. If you do use powdered formula, throw away rather than refrigerate any leftovers.
Getting ill from the bacteria is rare, with just several cases reported every year. However, if newborn babies develop an infection, it can be life-threatening. Babies can develop meningitis or sepsis. They could also develop bowel damage or a deadly infection that spreads through the blood to other parts of the body. Young infants under 2 months old or who have been born prematurely are more likely to get sick.
The signs of cronobacter illness in infants include fever, poor feeding, low energy levels, excessive crying, and seizures. Parents should seek medical help right away if their babies experience these symptoms.
Contact a New Jersey Personal Injury Lawyer Today
Defective or contaminated products can cause illnesses and injuries. You can recover compensation from the liable party, but product liability claims can be tricky.
Get the help you need from a Morristown product liability attorney from The Law Offices of Michael P. Burakoff. We have the skills and knowledge to help prove your case. Schedule a free consultation today by calling (973) 455-1567 or filling out the online form.
Source:
npr.org/2023/02/21/1158474070/enfamil-infant-formula-recall-bacteria