Car Accidents in Roadway Construction Zones: Can Injured Workers Obtain Compensation?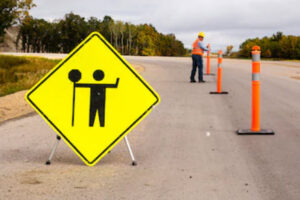 A recent multi-vehicle crash on Route 287 Northbound in Morristown was a reminder of how dangerous roadway construction zones can be for construction crews and motorists alike. According to TAP into Morristown, three construction workers sustained injuries as a result of the multi-vehicle collision.
If a construction worker is injured in a car accident in a roadway construction zone, they can recover damages through their employer's workers' compensation insurance. However, the injured worker may also be entitled to compensation via a personal injury claim against a car driver or a third party.
The Dangers of Roadway Construction Zones
Roadway construction zones, which are commonly referred to as work zones, pose a significant hazard to drivers and construction workers alike. For this reason, construction companies and contractors must exercise due care to ensure that roadway maintenance or repairs are being carried out in a reasonable way.
If a car accident occurs due to hazardous conditions caused by the construction company's negligence, the company can be held accountable for the resulting damages. A construction company can be held liable for injuries that occur in a roadway construction zone due to:
Missing or inadequate warning signs;
Lack of training for construction workers;
Defective construction equipment;
Leaving debris or construction equipment in the roadway;
Unmarked road hazards within the work zone;
Negligent traffic control; or
Inadequate lane markings.
However, in many car crashes that occur in and around work zones, motorists are fully responsible for causing injuries to construction workers and other drivers (e.g., in the event of distracted driving).
Compensation for Workers' Injuries in Work Zone Accidents
A worker's compensation following a roadway construction accident will depend on a variety of factors. How and who caused the incident will dictate whether a construction worker is entitled to pursue a workers' compensation or personal injury claim.
When recovering damages as an injured construction worker through your employer's workers' comp insurance, you can only obtain reimbursement for your medical expenses and lost wages. By contrast, bringing a personal injury claim against the at-fault party can get you compensation for your medical bills, loss of income, pain and suffering, emotional distress, and many more.
Do not accept a workers' comp or personal injury settlement before you have consulted with a skilled attorney who has evaluated your particular case and determined the amount of compensation that would be acceptable and fair.
Filing a Personal Injury Claim After a Roadway Construction Accident
In New Jersey, an injured victim has two years from the date of their accident to file a personal injury claim. As an injured construction worker, you may be entitled to both workers' comp and personal injury benefits depending on how your roadway construction accident occurred in New Jersey.
It is advised to speak with a knowledgeable attorney to get a case review and determine whether you should pursue a personal injury or workers' compensation claim or both. Contact our Morristown construction accident lawyers at the Law Offices of Michael P. Burakoff, P.A., if you are a construction worker or motorist who was injured in a work zone accident. Call at 973-455-1567 for a consultation.
Resource:
tapinto.net/towns/morristown/sections/police-and-fire/articles/multi-car-accident-on-route-287-northbound-in-morristown
https://www.burakofflaw.com/whos-liable-for-your-scaffolding-accident-injury-in-new-jersey/