All-Terrain Vehicle Accidents in New Jersey: Causes and Compensation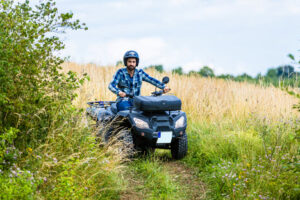 All-terrain vehicles, also known as ATVs, have been increasingly popular among thrill-seekers in New Jersey. However, accidents involving ATVs have also been on the rise lately.
ATVs are 3- or 4-wheel motorized vehicles designed for driving on rugged terrain. As people use ATVs for off-road driving and recreation, riders can end up sustaining serious injuries in the event of a crash.
If you have been injured in an ATV accident in Morris County, Sussex County, or other parts of New Jersey, do not hesitate to contact a Morristown personal injury attorney to review your case and obtain the compensation you deserve.
ATV Driving Requirements in New Jersey
Two people were airlifted with critical injuries following an ATV crash in Sussex County. As reported by the Daily Voice, the driver and passenger of a Tracker Off-Road ATV crashed into an embankment and a rock. They were ejected from the ATV and sustained serious injuries.
The state of New Jersey does not require a permit or license to drive all-terrain vehicles. However, all ATVs riders must meet certain requirements:
ATV riders must be over the age of 14
Riders between ages 14 and 18 must complete a government-approved safety course to operate ATVs
The rider must always carry proof of liability insurance
ATVs can be used only for off-road driving
Riders under the age of 16 may only operate ATVs with an engine capacity equal or less than 90 cubic centimeters
Sales of ATVs are prohibited to persons under 16 years of age
Causes of ATV Accidents
An ATV collision can occur for a variety of reasons, but common causes of accidents involving ATVs include:
Lack of experience. Since the state law does not require any permits or licenses to operate an ATV in New Jersey, many recreational vehicle accidents are caused by the rider's lack of experience and skills. The operator may not understand how to safely ride an ATV, which increases the risk of a preventable crash.
Driving under the influence. Since many people operate ATVs for fun and recreation, accidents involving alcohol or drug use are not uncommon.
Operating an ATV with more passengers than the vehicle can hold. Many ATVs are designed to carry only one passenger, while others can fit two passengers at a time. The decision to operate an ATV with more passengers than the vehicle can hold increases the risk of an accident.
Using the wrong-size ATV. There are different sizes of ATVs that must fit the operator. Using the wrong-size ATV can cause the operator to lose control of the vehicle.
Operating a recalled or defective ATV. Some all-terrain vehicles or their parts are defective or inherently dangerous. Unfortunately, many people operating an ATV are not aware of defects before it is too late.
Other causes of ATV crashes in New Jersey include driver error, operating an ATV in adverse weather conditions, and dangerous road conditions. If you were injured in an ATV accident, consult with a Morristown recreational vehicle accident lawyer to determine your insurance coverage and help you seek compensation for your injury. Contact the Law Offices of Michael P. Burakoff for a consultation. Call at 973-455-1567.
Resource:
dailyvoice.com/new-jersey/sussex/police-fire/atv-driver-passenger-airlifted-with-serious-injuries-in-sussex-county-crash/791465/