2 Killed In 2 Fatal Crashes Within 10 Minutes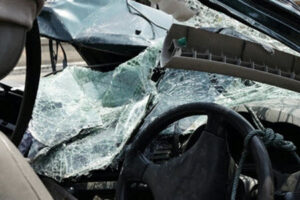 Car accidents happen on a daily basis in New Jersey. Sometimes they can even happen in the same general area. Garden State Parkway was recently the site of not one, but two car crashes, and unfortunately, both were fatal.
One person was killed in each of the accidents, which happened on the morning of October 24 on the Garden State Parkway, just two exits and 10 minutes apart. The first crash happened at Exit 157.9 in Clifton. A BMW X5 SUV was heading north when it went off the right side of the highway for unknown reasons. The SUV hit the guardrail and several trees. It then overturned and got back on the highway. The impact ejected three people from the vehicle. One person died at the accident scene, while two others were hospitalized with serious injuries.
About 10 minutes later, another crash occurred in the area. Troopers arrived at the scene of a pedestrian accident, which happened in Elmwood Park near milepost 159.7. A vehicle was heading north when it hit the pedestrian. That vehicle fled the accident scene. A second vehicle also hit the pedestrian. That driver stopped and remained at the accident scene. The pedestrian was killed in the crash. Both accidents are still under investigation.
Guardrail Accidents
If your commute occurs on a freeway or highway, you might drive by guardrails every day. These features are found on the side of roads, so you probably don't give them much thought.
What you may not know is that guardrails are actually an important safety feature. They serve as a layer of protection for drivers who have drifted off the road. Guardrails are especially helpful when there is a steep dropoff or embankment. They would protect drivers and passengers by keeping the vehicle on the road. They also keep motorists from running into trees, retaining walls, and other structures that might be on the side of the road.
As you can see, guardrails are meant to be beneficial for drivers. However, there are situations in which they can actually cause injuries. The reason for this is their construction. While most guardrails are supposed to have energy-absorbing properties, some do not. This means that a vehicle could crash through a guardrail and suffer serious injuries.
Some other issues include poor installation and design. Guardrails need to be installed at the correct height in order to prevent a fatal accident. If they are too short, vehicles can jump over them. If they are built too high, there may be too much space underneath them, allowing small vehicles to slide underneath.
Contact a New Jersey Personal Injury Lawyer Today
Sometimes accidents can happen within minutes of each other in the same general area. That can be scary for drivers to know about, but hopefully it will make them more careful and focused on their driving.
If you or a loved one has been involved in a crash, a Morristown car accidents attorney from The Law Offices of Michael P. Burakoff can help you with physical, emotional, and financial recovery. Schedule a free consultation today by filling out the online form or calling (973) 455-1567.
Source:
nj.com/bergen/2022/10/2-killed-in-crashes-moments-apart-on-garden-state-parkway.html