19 Injured In NJ Roller Coaster Ride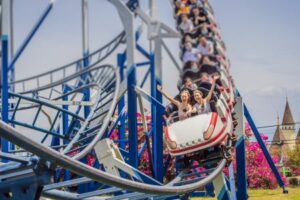 When it comes to amusement parks, safety should be the top priority. This is especially true for roller coasters and other rides, which often feature dangerous elements such as heights and gravity.
A recent incident at Six Flags amusement park, located in Jackson Township, injured 19 passengers. The people were injured while riding the El Toro roller coaster on the evening of August 25.
The riders suffered injuries after hearing a loud bang and getting jolted while riding the roller coaster. Five people were hospitalized with back pain, mouth and tongue pain, and neck injuries, while the other 14 passengers were treated on site.
Six Flags was ordered to shut down the ride for safety reasons. Department of Community Affairs inspectors were on site at a later date to inspect the roller coaster.
There were no further details about what caused the incident, but riders said it felt like the ride hit a pothole after making a drop. A lot of people bit their tongues due to the impact. While roller coaster enthusiasts say that wooden roller coasters like El Toro are supposed to be a little rough, they are also supposed to be safe and should not be injuring riders. When riders are injured, that is a serious safety issue due to some type of failure.
What is also concerning is that El Toro has a history of safety issues. In fact, the ride was completely out of commission for much of the 2021 season after partially derailing in June 2021. Its future reliability is now uncertain.
Amusement Parks and Premises Liability
Amusement parks have rides and games that provide entertainment for guests. While most guests have fun without suffering any injuries, the truth is that thousands of people are injured every year at parks across the country. So who is responsible for these injuries and the resulting damages?
In cases of amusement park injuries, the laws of premises liability will typically be applied. There are almost always just two kinds of injured plaintiffs: invitees and trespassers. An invitee is someone who was admitted to the park, while a trespasser was on the premises illegally.
The amusement park has a duty to maintain all aspects of the park in a safe condition for an invitee. If the park knows of a dangerous condition, they must warn the invitee. Otherwise, this is called a breach of duty, which makes the park liable in a personal injury lawsuit.
On the other hand, no duty is owed to a trespassing plaintiff. The only rule is that the park cannot cause intentional, unnecessary harm.
Contact a New Jersey Personal Injury Lawyer Today
People visit amusement parks to have fun, but sometimes accidents happen. Due to various factors involved, many roller coaster injuries result in death, so the passengers in this case are very lucky to be alive.
If you have been injured while visiting an amusement park, seek legal help from the Morristown premises liability attorney from The Law Offices of Michael P. Burakoff. We'll help you understand the laws involved and help preserve your legal rights. Schedule a free consultation by calling (973) 455-1567 or filling out the online form.
Source:
nj1015.com/nj-shuts-roller-coaster-at-six-flags-after-19-injured-during-ride/