Distracted Driving: A Major Problem In New Jersey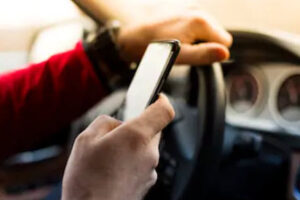 Smartphones make it easy to do all sorts of things. Not only can you make calls on them, but you can also surf the internet, go on social media, and play games. It's easy to get distracted while doing pretty much anything — even driving.
Unfortunately, distracted driving is a major issue in many states, including New Jersey. Every April, during National Distracted Driving Awareness Month, lawmakers work hard to make drivers aware of campaigns geared toward reducing distracted driving. "Take Control of Your Destiny" and "U Drive. U Text. U Pay." are just some of the distracted driving awareness campaigns used this year. But is it enough?
But is it working? Distracted driving is an issue in New Jersey all year long. It has been a leading cause of crashes in New Jersey for quite some time. Driver inattention has accounted for more than half of all crashes recorded in the state between 2011 and 2020. It has also accounted for nearly one third of fatal crashes during that same period. That's more than  speeding and drunk driving.
That's why lawmakers are taking things a step further and increasing education and enforcement efforts throughout the state. It is hopeful that drivers will take notice and do their part and remain alert and focused while behind the wheel.
Lawmakers want to better understand the problem of distracted driving in New Jersey. The Division of Highway Traffic Safety has commissioned a study to look beyond crash statistics and get a broader picture of the distracted driving problem in the state.
The study focused on 10 roadways in particular, including six corridors in New Jersey with new rates of distracted driving crashes: Garden State Parkway,  I-80, US1, US9, US22, and US130. There was also a focus on four other important arterial roads in the state: I-95, I-295, NJ18, and NJ55.
During the spring and summer of 2021, researchers traveled nearly 15,000 miles on those 10 roadways. They used a vehicle mounted with cameras on both sides to observe and record distracted driving in real time. Researchers looked for visual distractions, manual distractions, and cognitive distractions. They observed several things:
More than 20% of motorists were driving distracted at any given time.
Driver distraction was higher on weekdays than on weekends.
The leading type of distraction on both weekends and weekdays was handheld cell phones.
Distractions such as receiving calls, texting, eating, drinking, and grooming were higher on weekdays.
Distractions were more common between 9 a.m. and 12 p.m. and 3 p.m. and 6 p.m.
An increase in speed limit significantly increased distracted driving, while an increase in the number of lanes significantly decreased it.
Contact a New Jersey Personal Injury Lawyer Today
Distracted driving is no minor issue. Not paying attention while behind the wheel can result in serious and even fatal accidents.
The Morristown car accidents attorney from The Law Offices of Michael P. Burakoff can guide you through the process after a serious crash. We'll work closely with you to resolve your case with less stress. To schedule a free consultation,  fill out the online form or call (973) 455-1567.
Source:
ahherald.com/2022/04/01/distracted-driving-remains-a-serious-problem-in-new-jersey/