1 Killed, 3 Injured In Head-On Crash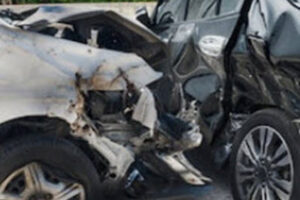 Nobody wants to get into a car accident, and nobody especially wants to get into a head-on collision. Such a crash can have devastating consequences for all involved.
A multi-vehicle accident has resulted in one fatality, with three children seriously injured. The fatal crash occurred on the evening of July 14 in Freehold Township, near the intersection of Siloam and Old Turkey Swamp roads.
Three vehicles were involved in the crash. They were a Chrysler Pacifica driven by a 42-year-old woman from the Township of Ocean, a Honda CR-V driven by a 34-year-old from Jackson, and a Ford F-350 driven by a 53-year-old man from Little Egg Harbor Township.
An investigation showed that the Ford F-150 pickup truck left the southbound lane of Siloam Road and hit the Honda before colliding head-on with the Chrysler Pacifica minivan. Inside the minivan were a woman and her three children. The driver died at the accident scene. Her 3-year-old daughter was airlifted to Jersey Shore Regional Medical Center with critical injuries. Two other children, ages 9 and 13, were taken to the hospital via ambulance. They suffered injuries that do not appear to be life-threatening.
The other two drivers remained at the accident scene. The crash is still under investigation.
Loss of Control and Head-on Crashes
Many head-on accidents occur when a driver loses control of their vehicle. Loss of control can happen in many ways, including the following:
Distracted driving. A driver who is distracted may be looking at their phone or focusing on passengers instead of paying attention to the road. This can cause them to veer out of their lane and hit another vehicle head on.
Speeding is another common way for a driver to lose control. This typically happens on curves because the driver does not properly judge the proper speed and slow down. In order to maintain control, the driver may travel into the adjacent lane, hitting another vehicle head on.
Poor weather conditions. Slippery road conditions, such as rain, ice, and snow, can make roads slick and cause a vehicle to hydroplane or slide. As a result, the vehicle may be unable to stay in its lane, colliding with an oncoming vehicle.
Mechanical failures. Unexpected issues with the vehicle, such as tire blowouts and brake failure, can cause the vehicle to exit the lane. The driver will likely have a difficult time maintaining control in these situations.
Contact a New Jersey Personal Injury Lawyer Today
Car accidents can happen in a variety of ways and cause numerous damages, but in a head-on crash, fatalities are likely. Those who survive often suffer catastrophic injuries.
Involved in a major crash? See how a Morristown car accident attorney from The Law Offices of Michael P. Burakoff can fight your case and help you get the compensation you deserve for all your damages. Schedule a free consultation today by calling (973) 455-1567 or filling out the online form.
Source:
nj1015.com/nj-ocean-township-mother-killed-children-hurt-pickup-truck-hits-minivan-in-freehold/