What to Know About Rear-End Accidents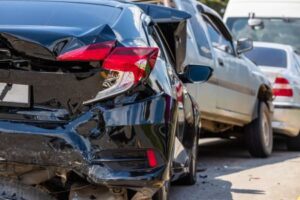 Car accidents happen every day in New Jersey. These crashes can happen in a variety of ways, but the most common type are rear-end accidents. Rear-end crashes occur when the front of a vehicle hits the rear of a vehicle in front. These accidents account for more than 30% of all crashes. They cause 31% of all traffic-related injuries and 7% of fatalities.
Determining Fault
In a rear-end crash, fault is typically pretty clear. The driver of the vehicle that does the rear-ending is usually liable for any damages. That's because drivers have a responsibility to keep a safe distance away from other vehicles. When a driver is close enough to cause a rear-end accident, it is likely because they are tailgating, or following too closely.
Because of this assumption, the driver in the rear is typically liable unless they can prove otherwise. Some exceptions would be drunk driving, brake checking, or a malfunction with the vehicle (such as non-working brake lights).
Common Injuries
Rear-end accidents can cause a number of injuries. The most common ones include:
Whiplash is a common car accident injury involving the head and neck. The impact of a crash causes the neck to jerk back and forth rapidly, causing neck pain, upper back pain, stiffness, headaches, and mobility issues.
A rear-end accident could also cause you to suffer from broken bones. You could break various body parts, including hands, arms, wrists, legs, feet, legs, toes, ribs, and hips.
Traumatic brain injuries. The impact of a rear-end crash could cause you to hit your head on the steering wheel or other part of the car, causing brain injuries. Symptoms include headaches, memory loss, loss of consciousness, fatigue, and vision problems.
Soft tissue damage. A crash could cause parts of your body to hit parts of the car. This can cause damage to muscles, ligaments, and tendons. You could suffer injuries such as sprains, strains, pulled muscles, torn muscles, and bruises.
 Contact a New Jersey Personal Injury Lawyer Today
Rear-end accidents are common occurrences of New Jersey roads. While most are minor, they can be catastrophic and even fatal at high speeds.
Discuss your situation with a Morristown car accidents attorney from The Law Offices of Michael P. Burakoff. We have helped many people successfully recover compensation for their injuries and other damages. To schedule a free consultation, fill out the online form or call (973) 455-1567.
Source:
forbes.com/advisor/legal/auto-accident/rear-end-collision/