Man, Dog Killed in Multi-Vehicle Crash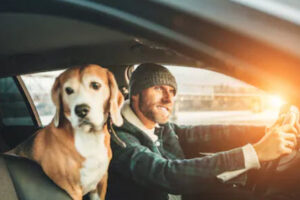 Car accidents are common ways in which people are killed. When multiple vehicles are involved, the risk of fatality is even greater. Unfortunately, animals inside the vehicle can also be killed.
This was recently the case in New Jersey. Three vehicles collided on Palisades Parkway on the evening of April 13, killing one person and his dog. Multiple others were injured in the Clarkstown crash.
The fatalities were a dog and a 20-year-old man from Hackensack. The man was driving a BMW southbound on Palisades Parkway when another BMW and a Nissan Rogue collided for unknown reasons.
The three vehicles came to a rest on the west shoulder in the southbound lanes. All were severely mangled, requiring chainsaws to cut them loose from each other so that they could be towed away. One vehicle was completely crushed. It is believed that several people were injured, although no specific details were released. The southbound lanes were closed for more than eight hours as crews cleared the accident scene.
Investigators need help with the investigation. Anyone who may have seen the three cars prior to the accident should call police.
Car Accidents Involving Pets
It's common for pets such as cats and dogs to go off their property and get hit by a vehicle. But how common is it for a cat or dog to get killed while riding in a vehicle?
Studies show that riding in pickup beds is dangerous for dogs. These unrestrained canines can easily jump out of the bed. In fact, approximately 100,000 dogs are killed every year while riding in the bed of a truck. If your dog must be in the back of your truck, keep them restrained in a crate. It's better, though, to keep your dog inside the cabin of the vehicle, in a harness.
Rhode Island is the only state that has a law regarding restraining pets. There are five other states that have some laws regarding transporting animals. However, they do not require restraints while inside a vehicle. Still, a police officer can choose to punish you if you are considered to be cruel to or endangering the animal.
Many pet owners allow their dogs to ride in vehicles unrestrained. Fifty-five percent use no restraint at all. One-third use a harness or seat belt.  Just under 14% use a crate or a carrier, while 8% have a pet barrier.
In any case, it's considered much more dangerous to be riding with an unrestrained animal. Tens of thousands of accidents happen every year due to unrestrained dogs.
Contact a New Jersey Personal Injury Lawyer Today
Multi-vehicle crashes are often catastrophic and even deadly, as seen in this case. When vehicles are severely mangled, the occupants are often seriously injured.
A Morristown car accidents attorney from The Law Offices of Michael P. Burakoff can help you get full and fair compensation for all your damages. Get the help you need today. Schedule a free consultation by calling (973) 455-1567 or filling out the online form.
Source:
newjersey.news12.com/palisades-parkway-southbound-lanes-closed-after-serious-crash-near-overpass