Types of Paralysis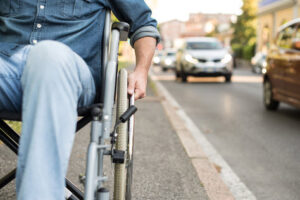 When you're young, you tend to think you have your whole life in front of you. You may be in college partying it up and playing sports. You may be in your 30s, taking care of young children. Many young adults think they are invincible, so nothing will happen to them.
However, life can change in an instant. A freak accident can leave you paralyzed for life. You may be paralyzed from the waist down or suffer paralysis throughout your entire body due to a car accident, fall, sports injury or even a medical condition.
Such a catastrophic injury can be life-changing. You may be unable to work, walk, move your arms, write, get dressed or even brush your teeth. You may be dependent on someone for the rest of your life — which could still be many decades.
In some cases, paralysis is temporary, going away after a certain period of time. In the majority of cases, though, it lasts forever. Read on to learn about the different types of paralysis.
Monoplegia
Monoplegia occurs when just one limb is paralyzed. The affected limb is typically an arm, although it is possible for one leg to have paralysis. Monoplegia is often caused by a medical condition, such as a stroke, tumor, inflammation or nerve condition. Symptoms include pain, numbness and weakness.
Hemiplegia 
Hemiplegia means that one half of your body is paralyzed. It affects an arm and leg on the same side of your body. This means that your left arm and left leg would both have paralysis, or your right arm and right leg would be affected. When a person suffers from hemiplegia, it is often from brain-related issues. Brain tumors, infections and trauma are common causes. Strokes, spinal cord injuries and genetics can also lead to hemiplegia.
Paraplegia
Paraplegia is different from monoplegia and hemiplegia in that it affects both legs only. Those with paraplegia cannot move their feet and legs. In some cases, they cannot even move their abdomen.  Many cases of paraplegia are caused by car accidents and falls. They can also be caused by sports injuries and crimes. Medical conditions such as multiple sclerosis, cerebral palsy and strokes can also cause paraplegia. This type of paralysis can also be caused by tumors on the spinal cord or brain.
Quadriplegia
Also called tetraplegia, quadriplegia affects all four limbs as well as the torso. A person is often unable to move from the shoulders down. It is often caused by damage to the spinal cord at the neck or base of the skull.
Contact a New Jersey Personal Injury Lawyer Today
While paralysis is sometimes caused by medical conditions, sometimes it is the result of an accident caused by a third party.
Treatment for paralysis can be lifelong and costly. If someone's negligence caused your paralysis, seek legal help from a Morristown catastrophic injury attorney at The Law Offices of Michael P. Burakoff. We can assist you in getting the financial help you need. To schedule a free consultation, fill out the online form or call (973) 455-1567.
Resource:
healthline.com/health/paralysis#types