Snow And Ice Removal Laws For Landlords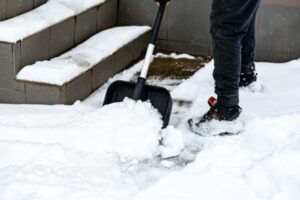 We're in winter now, which can pose premises liability issues for property owners, particularly landlords. As temperatures drop, what are the rules for removing snow and ice?
The good news is that New Jersey is clear on the laws in this regard. First, there is the ongoing storm rule, which states that a landowner does not have a duty to remove ice or snow from public walkways until after the precipitation ends. This is because clearing all ice and snow while precipitation continues is virtually impossible. A landlord or any contractors cannot prudently catch it all, and the law operates under the basis of reasonableness. There are just exceptions to this rule: there is a pre-existing danger or the landlord's conduct increases the risk.
But what happens after a storm when there is snow or ice on sidewalks and other walking paths next to a landlord's property? Do they have any responsibility?
This depends on whether the property is residential or commercial. If the property is commercial, the owner has a duty to remove snow and ice from adjacent sidewalks created for public use, per the outcome of the New Jersey court case Stewart v.104 Wallace St., Inc. Those who fail to care for abutting public sidewalks are liable for pedestrians who are injured due to slipping on the dangerous conditions.
However, if the property is residential in nature, the property owner does not have a legal duty to remove the ice and snow from the sidewalk and make it safe. That would typically be the responsibility of the city. The owner of the residential property who removes snow and ice from a public sidewalk will not be liable for any pedestrian injuries unless their negligence creates another hazard.
Local Ordinances May Apply
Even though residential property owners may not have a duty in terms of state premises liability laws, they may be required to take action under local laws. For example, cities may set forth their own requirements for owners to remove ice and snow from abutting sidewalks. Plus, each town may have different laws. If a pedestrian slips and falls, the owner may not be sued. However, they could be fined or given other penalties. In some cases, the city will remove the ice and snow and then charge the property owner for this action. To avoid the risk of liability, property owners should familiarize themselves with not only state laws but local laws as well.
Contact a New Jersey Personal Injury Lawyer Today
Premises liability law can be confusing, especially when it comes to responsibility for conditions caused by the weather. Landlords do have some responsibilities, so it is important that they understand the law.
If you were injured on someone else's property, who is liable? The Morristown premises liability attorneys at the Law Offices of Michael P. Burakoff can assess your case and help determine liability. Fill out the online form or call (973) 455-1567 to schedule a free consultation.
Resource:
reuters.com/legal/legalindustry/new-jersey-holds-that-commercial-landlords-have-no-duty-remove-snow-ice-during-2021-06-11/