Sam's Club Grapes Not Liable For Woman's Slip And Fall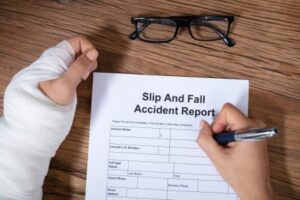 Slips and falls can happen in a variety of places, including restaurants, grocery stores, parking lots, sidewalks, stairs, and even a person's own home. When they happen, the victim often wants to blame someone else so they can obtain compensation for their injuries. But as one recent case in New Jersey shows, the business is not always the one at fault.
A 56-year-old woman found this out the hard way after she sued a Sam's Club in Linden when she slipped on a grape in 2017. She claimed that the way the fruit was stored made the store liable for her injuries.
However, a New Jersey Supreme Court recently ruled that the Sam's Club was not liable for negligence based on its packaging. The grapes are sold in closed clamshell containers instead of open-top bags. As such, they do not create a reasonably foreseeable risk that they will fall to the ground and cause slip and fall accidents.
The woman slipped and fell in the main aisle of the Sam's Club in the spring of 2017 after she turned from the checkout area. She forgot an item and slipped and fell, with grapes stuck to her shoe. An ambulance arrived to treat the woman, who suffered serious injuries. Later that same year, she filed a negligence complaint against the wholesale store.
The New Jersey Supreme Court just started hearing the case on January 3. Sam's Club representatives were aware that it was common for customers to open the clamshell containers while in the store. However, that practice is frowned upon, as it is viewed as tampering.
The woman wanted a jury to consider the "mode of operation" rule in her case. Under that rule,  the woman could establish negligence whether or not Sam's Club was aware of the dangerous condition. That rule was made to deal with negligence cases, with the woman claiming that grape container packages pop open all the time.
However, Sam's Club was able to successfully bar the request, arguing that the rule specifically did not apply in this case because the store sold grapes in sealed packages to avoid unsafe conditions caused by loose grapes. The customers were the ones who opened the grapes and caused the unsafe conditions. The previously used open-top plastic bags were previously shown to create a slip and fall risk.
The woman's lawyer thought the decision was terrible and will encourage lax safety standards.
Contact a New Jersey Personal Injury Lawyer Today
Slips and falls can be serious accidents and while stores are to blame in many cases, sometimes they do not have liability for a customer's injuries. Sometimes customers cause their own negligence.
Liability can be tricky in slip and fall cases. A Morristown premises liability attorney from The Law Offices of Michael P. Burakoff can help. We have more than 40 years of experience with these types of claims. We can help you get results. Call (973) 455-1567 or fill out the online form to schedule a free consultation.
Resource:
nj.com/union/2022/03/grapes-were-in-a-container-so-store-wasnt-liable-for-womans-slip-nj-court-rules.html