Plaintiff Entitled To Damages In Dog Bite Despite Religion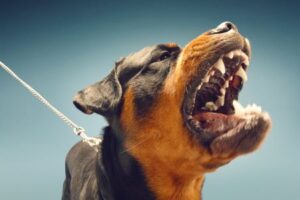 The typical sign you might see in front of a yard is "Beware of dog." But in an unusual case in New Jersey, it appears as though the defendant was trying to push the case in favor of "Beware of God."
Yes, religion played a role in a recent dog bite case. In the case Bernstein v. Nossel, it was decided that the plaintiff, who was bitten by the defendants' dog, should be entitled to compensation for damages. However, the defendant disagreed due to a Jewish law called  Yichud.
The defendants were out of town for two weeks and a woman, a dog sitter, was staying at the home during that time. The plaintiff was invited by the dog sitter to visit and he stopped by for an hour. He was in the home when he was bitten by the dog. As a dog bite victim, he rightfully felt he was entitled to compensation for damages.
However, the defendants argued that the man was a trespasser for an unusual reason. The man did not belong in the home due to an Orthodox Jewish law called Yichud, which strictly prohibits unrelated single men and single women, like the plaintiff and the dog sitter, from being alone together in a secluded location, like the defendants' home.
The defendants and dog sitter are all observant Orthodox Jews. However, the dog sitter viewed Yichud as a "very gray area" in Jewish law. She believed that "as long as someone is able to walk into the house it's okay to be in the same house." Likewise, the plaintiff believed that male and female students could be alone and unchaperoned in a room during the day.
The plaintiff did not believe it was a problem for him to visit the dog sitter. They did not engage in any activity except for him taking a short nap by himself in the upstairs bedroom.
The problem with defendants' argument is that even though people share a religion, it does not establish they have a common understanding of all tenets of that faith. Based on his understanding of Yichud, the plaintiff reasonably believed that he was allowed to be where he was when the defendants' dog bit him. He was unaware that the defendants had a different understanding and interpretation of Yichud. Asserting that the plaintiff should have known how the defendants understood and practiced Yichud is not sufficient to create a material fact.
The court sided with the plaintiff, claiming that Jewish law was not relevant in this case and did not make him a trespasser.
Contact a New Jersey Personal Injury Lawyer Today
It can be interesting when religion and law collide, but even when a person has a closely held belief, it cannot always be interpreted as law.
A Morristown dog bite injury attorney from The Law Offices of Michael P. Burakoff can help you get the compensation you need for your dog bite case. We know the laws that apply. Schedule a free consultation today by filling out the online form or calling (973) 455-1567.
Source:
reason.com/volokh/2023/05/06/beware-of-god/