Pit Bull Attacks For Second Time In Five Years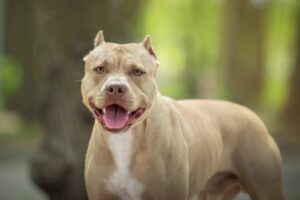 Some dogs bite and it's a one-time event — they never do it again. Then there are those who bite multiple times, despite quarantines and warnings from animal control. A pit bull in New Jersey has been impounded by animal control after a second attack in a five-year period.
The pit bull attacked a 4-year-old girl and her mother in Teaneck on the afternoon of December 12. Both were bitten by a dog on Voorhees Street. Police officers arrived at the scene and determined that a brown-haired pit bull had gotten loose and attacked a 26-year-old woman and her daughter while she was attempting to remove her from her car seat.
A contractor who was working nearby heard screams from the victims and was able to get the dog to run off. Both the mother and daughter were injured and taken to a local hospital for treatment.
Police officers located the dog's owner on Voorhees Street. The owner claimed that the dog had gotten loose from its backyard. He was issued two summonses: "dog at large" and "registration of dog." The pit bull is currently in the possession of Bergen County Animal Control, where it is being quarantined for 10 days.
This was the second time that the dog had gotten loose. In December 2017, the pit bull and a small dog attacked a mail carrier. The owners retrieved the dogs and the injured mail carrier was taken to a local hospital for treatment. It was the same pit bull in both incidents. The pit bull's fate is currently unknown. Bergen County Animal Control does not know if the dog will be returned to its owner. A judge would have to make that decision. The incident is still under investigation.
Dangers of Pit Bulls
You may notice that a majority of dog attacks involve pit bulls. Between 2005 and 2014, pit bulls killed 203 people. Is it because we have a lot of pit bulls here in the United States? Not at all. In fact, they make up just 6% of the total dog population in the country.
Yes, all dogs can bite, but pit bulls bite with a tremendous force. They are often bred for powerful jaws that clamp down and shake vigorously. They bite until the threat is dead.
This means pit bull owners need to be aware of how dangerous their dogs can be. Their instinct is to attack, so they should never assume anyone — especially children — are safe around their dog.
Contact a New Jersey Personal Injury Lawyer Today
Dog attacks can cause serious injuries. While any dog can be provoked and cause an attack on a person, pit bulls are especially dangerous.
A Morristown dog bite injury attorney from The Law Offices of Michael P. Burakoff can help you if you have been a dog bite victim. We'll help ensure your injury claim is successful. To schedule a free consultation, call (973) 455-1567 or fill out the online form.
Source:
nj1015.com/teaneck-pit-bull-attack/