Man Killed By Skid Steer In Backyard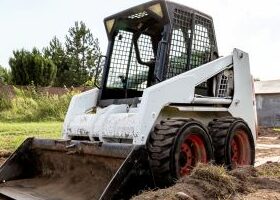 When working on construction projects, it's always a good idea to have others working with you. Not only can the extra hands get the project completed sooner, but it's good to have someone nearby who can call for help should an accident occur.
A New Jersey man was working on construction projects alone in his backyard when he was killed in an accident involving a skid steer tractor. The fatal accident occurred on the afternoon of November 18 at the man's home in Vineland.
The 49-year-old man was operating the construction vehicle in the backyard of his home, located in the 4000 block of Ascher Road, when he was killed by the skid steer. The details of the accident have not been released. Also, it is unknown what the man was working on at the time of his death, as he had several projects underway in the backyard.
The man was previously a police officer for Vineland Police Department for 13 years before joining the Construction & General Laborers' Local 172. He leaves behind his wife and two children.
Dangers of Skid Steers
Skid steers are versatile construction vehicles that can be used for a variety of tasks, from loading materials to excavating to landscaping to trenching. You can add various attachments to them to allow them to perform all kinds of construction projects. They are truly a jack of all trades.
However, skid steers can also be very dangerous and as such, they need to be driven with care. Some common skid steer accidents include:
Crushes by moving parts. The parts of a tractor may move unexpectedly at any time, causing a driver to be crushed. It is important to stay inside the cab of the skid steer while the vehicle is turned on.
Rollover accidents. It's easy for skid steers to tip over. Operating on uneven ground and hauling heavy loads can cause them to roll over, crushing the operator to death.
Operators who are not wearing a seat belt can get ejected from a skid steer. The tractor may hit a rock or other object, causing it to tip forward and eject the operator. The skid steer may then run over the person.
You can stay safe by reading the operator's manual. Pay attention to warning labels and ask for help if you don't understand certain controls. Take all required training. Avoid taking shortcuts and placing yourself in unnecessary danger. Always wear your seat belt and avoid driving when intoxicated or fatigued.
Contact a New Jersey Personal Injury Lawyer Today
Construction accidents can happen anywhere — even in one's backyard. It's important to operate tractors and other machines carefully to avoid serious accidents.
Construction accident claims can be tricky. Make sure you get the compensation you deserve with help from a Morristown construction accident injury attorney from The Law Offices of Michael P. Burakoff. Schedule a free consultation today by calling (973) 455-1567 or filling out the online form.
Source:
nj.com/cumberland/2022/11/nj-man-killed-in-construction-vehicle-accident-while-working-on-backyard-project-at-home.html