Is Your Workplace Safe?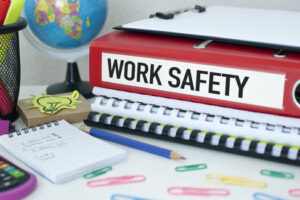 When we go to work each day, we hope to work in a safe environment. However, not everyone has that opportunity. In fact, more than 30% of the workers surveyed by Andrews Air Quality say that their workplace is an "accident waiting to happen."
Not only that, but nearly 60% of the 2,000 adults surveyed believe that their employer needs to do more to make the workplace safe. Also, more than 70% allege configurement issues with their desks, causing them to suffer from aches and pains.
What's more, 55% of the respondents have issues with the air quality. This may not seem like a huge issue, but considering that we live in the age of COVID, having access to fresh, clean air is absolutely essential. What makes this frustrating is that 13% of office workers claim that their office windows don't even open, making a fresh breeze nothing more than a fantasy.
More than half of those surveyed have actually been injured at work, with the injuries ranging from very minor, such as scratches, to more severe injuries, such as broken bones. Surprisingly, the main cause of injury risk, at 27%, was mental in nature, with overworked employees at risk of burnout.
Tripping hazards are also a danger, with 23% of employees who regularly work around cables worried about trips and falls. While a lack of fresh air is a common complaint, 19% of respondents claim they don't get any natural light.
Spills are another common issue, with 20% of respondents stating that they have seen spills not cleaned up promptly. Furthermore, 25% of those surveyed have reported a hazard, but were ignored. That same amount of people are not aware of their employer's fire policy—if there even is one in place.
The amount of danger in the workplace can cause a person to quit their job. More than 30% have actually quit a job because they felt unsafe.
Any Workplace Can Be Dangerous
Workers are often under the impression that only certain workplaces can be dangerous, such as warehouses and construction sites. However, this is untrue. Offices can also house many dangers, even though close to 70% of survey respondents felt that they are not dangerous workplaces at all.
The takeaway from this is that employees and employers need to be educated about workplace dangers. Even if there is no machinery or equipment at your workplace, you can still be at risk in other ways. Just because you work in an office does not mean you are totally safe. And with offices starting to reopen as COVID numbers decrease, managers need to make the safety of employees a priority.
Contact a New Jersey Personal Injury Lawyer Today
If you feel as though your workplace is an accident waiting to happen, this lack of safety can affect your productivity. Make your concerns known to your supervisor.
A Morristown work-related accident attorney from The Law Offices of Michael P. Burakoff can help you understand your legal options. Schedule a free initial consultation today to see how you can recover compensation for your injury. Call (973) 455-1567 or fill out the online form.
Source:
nypost.com/2022/03/31/quiz-reveals-if-your-place-of-work-is-an-accident-waiting-to-happen/