Electrician Killed In Fall On NJ Construction Site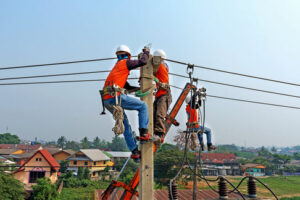 Construction sites contain various dangers. One of the most common issues is heights, and if workers fail to take adequate care when navigating heights, they can fall to their death.
Sadly, this was recently the case at a Lodi construction site. An electrician fell 40 feet to the ground, later dying at the hospital.
The fatal accident occurred on the morning of September 9 on Industrial Road. The electrician, a 43-year-old outside contractor, fell from a building. The man suffered a head injury and went into cardiac arrest. His co-workers tried to provide him with medical care before responders arrived. The man, from Guttenberg, was taken to Hackensack University Medical Center, where he later died.
The Bergen County Sheriff's Bureau of Criminal Identification responded to the accident scene to collect evidence. The Occupational Safety and Health Administration (OSHA) was also notified.
Falls on Construction Sites
Falls are the top cause of construction worker fatalities, accounting for 30% of all workplace fatalities in the construction industry. A fall can happen from a ladder, scaffold, or roof, and result in serious injuries or death.
Falls can occur for many reasons, including:
Lack of fall protection. Employers are required to provide workers with the equipment they need to do their jobs safely. Fall protection can help prevent fatal accidents. Some types of fall protection include harnesses, guardrails, and safety nets.
Unfinished roofs. Roofs that are incomplete also cause a great number of falls. This is often due to several things, including unguarded edges of the roof, falls through opening, and falls along the leading edge of the roof.
Unsafe ladders. Even though falling off a ladder is not as bad as falling off a roof, there are still serious dangers involved. Workers can suffer catastrophic injuries such as brain injuries and spinal cord damage even when falling from less than one story.
Slips and trips. A construction site can quickly become crowded with materials, tools, and workers, and more. These hazards can increase the likelihood of a fall when a worker loses their footing.
While construction falls are often deadly, they can be prevented. Employers can play it safe by being proactive and helping workers stay safe while on construction sites. Some safety tips include:
Plan ahead and think about safety before starting any job.
Provide the right equipment for employees who are working at heights.
Train workers to work safely on roofs, ladders, and scaffolds.
Contact a New Jersey Personal Injury Lawyer Today
A construction site accident can be catastrophic or fatal, as in this case. Victims and their families need to be aware of their legal options so they can get the compensation they need to move on from such a serious accident.
Let a Morristown construction accident injury attorney from The Law Offices of Michael P. Burakoff guide you through the process. We have extensive experience recovering full and fair compensation for clients injured in construction site accidents across New Jersey. Fill out the online form or call (973) 455-1567 to schedule a free consultation.
Source:
dailyvoice.com/new-jersey/garfield/news/lodi-fatal-electrician-from-hudson-county-falls-to-his-death-at-construction-site/843191/