Dog Bites Driver After He Hits Owner In Crash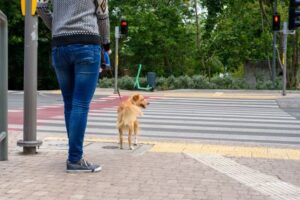 After a driver hits a pedestrian, they are to stop and render aid, under New Jersey law (and all state laws, for that matter). Nothing can be more frustrating, though, than trying to help someone and their dog bites you, impeding the process.
Dogs can get protective of their owners, though, and this was what recently happened in New Jersey. A driver hit a man who was walking his dog. When he stopped and rendered medical aid, the dog bit him.
The incident happened in South Brunswick on the morning of March 9. A 24-year-old man from North Brunswick was walking along Route 1 with his dog. The traffic signal turned red for Route 1, and that was when the man and his husky began to cross the highway.
A 34-year-old Kendall Park man driving a Toyota Corolla attempted to turn left at the same time. However, he failed to see the man and his dog due to excessive sun glare. That was when the vehicle hit the man.
The driver immediately stopped to render aid to the New Brunswick man. However, as he got close, the husky bit the driver. South Brunswick paramedics responded to the accident scene and took the victim to Robert Wood Johnson University Hospital for medical treatment. He is currently in stable condition. The driver was not injured from the dog bite. The crash is still under investigation.
When Dogs Get Protective
Some dogs get protective of their owners for several reasons. The main reason is that they consider them family. Dogs are used to having their owners around, and if their owners treat them with constant love and care, they will give back by protecting them from all possible dangers.
Dogs also have a self-preservation instinct. Normally, people provide food and shelter to their dogs. If their owners get harmed, the dog may not get that food and shelter, so it may be a dog's instinct to provide protection for their owners.
Dogs who have a history of abuse may be extremely aggressive. However, they may also become protective of their current owner, who is caring and loving. Instead of being aggressive, the dog may realize that their new owner loves and cares for them. They may therefore respond with aggression to anyone who looks like they may be trying to harm their owner, even if they are trying to help them.
Contact a New Jersey Personal Injury Lawyer Today
Dog bites can happen in a number of ways. Even when a person is trying to help another, a dog may intervene and attack the person who is trying to help.
While the man in this case was not injured by the dog bite, that is hardly the norm. If you have been affected, contact a Morristown dog bite injury attorney from The Law Offices of Michael P. Burakoff. We understand the short-term and long-term effects of dog bites. To schedule a free consultation, fill out the online form or call (973) 455-1567.
Source:
patch.com/new-jersey/southbrunswick/man-walking-dog-hit-car-south-brunswick-dog-bites-driver-pd