Crane Collapses, Gets Stuck In Power Lines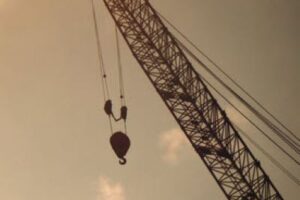 Cranes and other construction vehicles are very tall and heavy. One wrong move can get these vehicles into situations where they get stuck and become dangerous to bystanders.
This recently happened in New Jersey. The front of a crane suddenly lifted up off the ground and got stuck in electrical wires. The incident happened on the morning of February 27 on Roosevelt Street in Cresskill.
Emergency service crews had to evacuate nearby residents so that they would not get injured by the tangled crane. Orange and Rockland Utilities had to cut power to 22 customers in the area. The companies could not repair the power lines until the truck was removed. It was expected that customers would be without power for several hours while O'Brothers Tree Service landscaping company got their truck unstuck from the wires. It does not appear that anyone was injured in the incident.
Risks of Construction Equipment 
Construction vehicles, such as trucks, forklifts, and tractors, can weigh many tons. Workers can suffer equipment-related injuries and fatalities in various situations, such as:
Equipment rolling over
Operators or mechanics being run over or caught in equipment when the brakes are not set
Equipment is left in gear
Wheel chocks are not used
Equipment and controls are not locked out
Workers on the ground being hit by falling equipment loads, backhoe buckets, or other moving parts
When it comes to machinery and equipment, proper training is of utmost importance. Construction companies should help workers understand the risks involved and establish key controls and work practices. There are several things that can help:
Proper training. It is important for every operator to be thoroughly and properly trained on the equipment they will use.
Construction sites are busy, so workers should be vigilant. Train employees to survey their surroundings at all times and check vehicles at the beginning of every shift to ensure that everything is in working order.
Knowledge of securing equipment. Equipment and machinery looming high above a worksite present a huge risk. All workers should know the best practices for securing equipment.
Employees should also be mindful of loading vehicles. Overloaded vehicles and unbalanced loads are safety risks that can cause vehicles to topple over. Loads should be covered and secured before moving the vehicle. Equipment on the ground, particularly smaller machines and power tools, should not be overlooked. Stepping on this equipment can cause serious injuries.
 Contact a New Jersey Personal Injury Lawyer Today
Construction sites often involve heavy vehicles that can topple over for a variety of reasons. If workers are inside or nearby, they can get crushed and suffer catastrophic injuries.
These accidents and injuries are often attributed to negligence. Get help from a Morristown construction accident injury attorney from The Law Offices of Michael P. Burakoff if you have been affected. We'll help you understand your options for making a successful financial recovery. Call (973) 455-1567 or fill out the online form to schedule a free consultation.
Sources:
abc7ny.com/crane-collapse-power-wire-cresskill/12888586/
cbsnews.com/newyork/news/crane-topples-over-sending-truck-into-power-lines-in-cresskill-n-j/