Deadliest Roads In New Jersey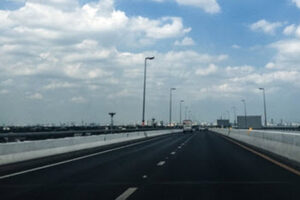 New Jersey is a busy state. It's near New Jersey, Maryland, Pennsylvania, Delaware, and other East Coast states, so it sees a lot of traffic. This means that there are a lot of car accidents. Some areas are especially dangerous for motorists.
Some roads are deadlier than others due to many reasons. For example, some roads are just busier than others, so more traffic leads to an increase in accidents. Plus, keep in mind that some of the state's roadways were designed many decades ago, so they are not necessarily built for the types of vehicles and the speeds that are in New Jersey today.
Negligence is also a factor. Between 2018 and 2020, more than 40% of fatal accidents in New Jersey were caused by drunk driving or speed. Another 20% were caused by distracted driving.
More than 800 roads in New Jersey were assessed. Here are the top 10 deadliest streets in the state, based on statistics from 2018 to 2020:
SR-27 from La Rose to South Adelaide avenues. This 3.4-mile stretch of road saw seven fatal car accidents during that time period. Seven people were killed. Fortunately, the Department of Transportation is looking to make improvements such as reducing the roadway from four lanes to two travel lanes with bicycle lanes and a center left-turn lane.
US-9 from Spring Valley to Old Mill roads. On this road, which stretches for 4.1 miles, there were also seven fatal accidents However, there were eight fatalities.
I-95 from Exit 13 to Exit 14. This road is 4.9 miles long and was also the site of seven fatal accidents and eight deaths.
SR-27 from Seminary Avenue to Grant Street. This 3.3-mile stretch of road saw eight fatal accidents and the same number of fatalities.
I-80 from Exit 55B to Exit 60. This road stretches for 3.4 miles. From 2018-2020, it saw eight fatal accidents and nine fatalities.
SR-21 from Miller Street to 4th Avenue. On this area's 2.9 miles, there were 10 fatalities from nine accidents. There are plans to upgrade the sidewalks and traffic signals.
US-1 from Garden Street to Us Highway 22. This road is 4.1 miles long and resulted in 10 fatal accidents and the same number of fatalities.
I-95 from Exit 74 to the Vince Lombardi Travel Plaza. Over the course of 4.2 miles, there were 10 fatal accidents and 11 fatalities.
US 322 from Village Parkway to E. Garwood Avenue. There were 10 fatal accidents and 12 fatalities on this 4.6-mile road.
US 40 from West End Avenue to Noah's Road. This road stretches for 3.9 miles. There were 11 fatalities and 11 fatal accidents.
Contact a New Jersey Personal Injury Lawyer Today
Car accidents happen on a daily basis and unfortunately, many are deadly. Busy roadways tend to have more fatal accidents than others.
If you have been involved in a crash, seek legal help from a Morristown car accidents attorney from The Law Offices of Michael P. Burakoff. We'll help you get all the damages you are entitled to receive. To schedule a free consultation, fill out the online form or call (973) 455-1567.
Source:
nj1015.com/the-10-deadliest-stretches-of-road-in-new-jersey-according-to-new-report/