Can You Sue for Medical Malpractice Related to COVID-19 in New Jersey?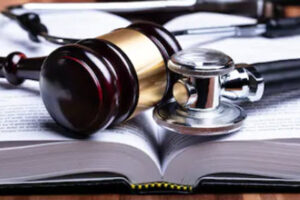 With New Jersey Governor Phil Murphy declaring the coronavirus (COVID-19) pandemic "one of the greatest tragedies in our state's history," an increasing number of New Jerseyans are wondering about medical liability (medical malpractice) in cases related to COVID-19.
While most doctors are doing everything they can to save lives and prevent the spread of the coronavirus, some make medical errors and cause harm.
Can Doctors Be Sued for Coronavirus-Related Medical Malpractice?
But can doctors who commit malpractice during the coronavirus pandemic be held liable for their actions?
For now, the answer is unclear. Coronavirus-related medical malpractice can occur when a doctor misdiagnoses a patient or fails to administer a COVID-19 test and tells them they do not have the virus. If the doctor sends that patient home, but their condition gets worse, not only do they endanger that patient's health but also the health of others due to the doctor's mistake.
COVID-19 and Medical Errors
The coronavirus pandemic has affected millions of Americans, both directly and indirectly. With the White House's coronavirus task force estimating that COVID-19 could kill up to 200,000 Americans, an increasing number of people may require medical care due to health complications during the pandemic.
When an individual suspects coronavirus and goes to a hospital, they expect healthcare providers to help them treat the disease and recover. However, if a medical professional makes a negligent error when diagnosing or treating COVID-19 and causes harm, the patient might be able to sue them for medical malpractice.
Types of Coronavirus-Related Medical Malpractice
Doctors may commit a variety of medical errors when diagnosing and treating coronavirus patients, including but not limited to:
Failure to diagnose
COVID-19 misdiagnosis
Providing inappropriate treatment
Failure to administer the coronavirus test
Failure to maintain sanitary and safe conditions
Failure to prevent the spread of the virus within the facility
Failure to treat in a timely manner
These and other medical errors may occur in New Jersey and across the nation during the coronavirus pandemic. If you believe that a healthcare provider made a mistake related to COVID-19, contact a Morristown medical malpractice attorney to examine your particular case.
Doctors' Liability in Coronavirus-Related Medical Malpractice Cases
A Business Insider report showed that the coronavirus pandemic could result in an increased number of medical malpractice lawsuits across the nation. However, whether or not coronavirus patients will be able to sue hospitals and medical providers for their negligence or carelessness in cases related to COVID-19 is unclear because the government may provide immunity from liability during the coronavirus pandemic.
In fact, American doctors on the front line of the pandemic are already urging lawmakers to provide protection from potential med mal lawsuits, according to a Reuters report. The question of doctors' liability in cases related to COVID-19 remains unclear as the nationwide death toll continues to rise.
The state of New York, which topped 4,000 deaths from the coronavirus disease as of April 5, may protect doctors from medical malpractice lawsuits while fighting the pandemic. Other states could adopt similar protections.
Talk to a Morristown medical malpractice attorney to determine whether you can recover damages by suing the negligent doctor or hospital. Contact The Law Offices of Michael P. Burakoff, P.A., to receive a consultation. Call at 973-455-1567.
Resources:
wsj.com/articles/new-york-moves-to-shield-doctors-from-lawsuits-while-fighting-coronavirus-11585868982
reuters.com/article/us-health-coronavirus-usa-lawsuits/u-s-doctors-on-coronavirus-frontline-seek-protection-from-malpractice-suits-idUSKBN21K2IQ
businessinsurance.com/article/00010101/NEWS06/912333574/Coronavirus-could-affect-med-mal-rates-Experts
npr.org/sections/coronavirus-live-updates/2020/03/29/823517467/fauci-estimates-that-100-000-to-200-000-americans-could-die-from-the-coronavirus
npr.org/sections/coronavirus-live-updates/2020/04/04/827412713/coronavirus-has-now-killed-more-new-jersey-residents-than-9-11-attacks
https://www.burakofflaw.com/how-do-i-know-if-i-have-a-valid-medical-malpractice-claim/