2 Injured In New Jersey Stairway Collapse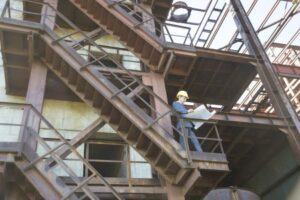 Construction sites are home to many hazards. Power tools, heavy materials, electricity, and heights all contribute to injuries and fatalities. In some cases, structures can also collapse, causing serious harm to nearby employees.
Two construction workers were recently injured when a stairway collapsed on a New Jersey job site. The incident occurred on the morning of May 18 at 8 Kingsbridge Road in Fairfield. The employees were working on a condominium in Essex County. A 54-year-old man from Towaco was working on the stairway when it broke. He fell about 20 feet and landed on the first floor. He complained of pain in his ribs.
There was a broken piece of the stairway hanging above the man. This initially prevented first responders from reaching the victim so he could be treated. The Fairfield Fire Department and West Essex First Aid Squad had to secure the broken piece of stairway dangling and then cut away at it. Once first responders could get to the man, he was taken to a local hospital. The extent of his injuries was unknown.
A 45-year-old man from Oakhurst was also injured in the collapse. He suffered a back injury and was also taken to a local hospital.
The job site was shut down by the Fairfield Building Department while the Occupational Safety and Health Administration (OSHA) investigates. Two other employees were nearby when the stairway collapsed but had left the area just in time. Multiple agencies assisted with the accident, including Fairfield police, Atlantic Healthcare EMS, and New Jersey's Urban Search and Rescue Team, as well as first responders from Verona, Caldwell, West Caldwell, and North Caldwell.
Stairway Collapses
Many construction projects, such as offices and apartment buildings, have stairways. Stairways can be very dangerous if they are not built properly. When a person is working on the stairway as it collapses, they could easily be buried underneath it. They could suffer suffocation and death.
It is important that indoor and outdoor staircases are carefully designed and constructed. Each state has building codes and laws in place that regulate the construction of stairs, and. New Jersey is no exception. Failure to adhere to the building codes can result in stairway defects and collapses.
Stairways may be negligently constructed in other ways. For example, improper fasteners may be used or they may be poorly installed. Also, outdoor stair treads should be tilted for drainage. Otherwise, water buildup can cause rot, leading to collapse.
Contact a New Jersey Personal Injury Lawyer Today
Construction is necessary but these projects can be unsafe. Construction companies need to have adequate safety training in place to prevent injuries to workers.
Injured on a construction site? Seek legal help from a Morristown construction accident injury attorney from The Law Offices of Michael P. Burakoff. We'll keep you informed and involved throughout the process. Get started with a free consultation. Call (973) 455-1567 or fill out the online form.
Source:
nj.com/essex/2022/05/2-hurt-in-collapse-of-temporary-stairway-at-condominium-construction-site.html