Woman Killed in Crash at New Jersey Gas Station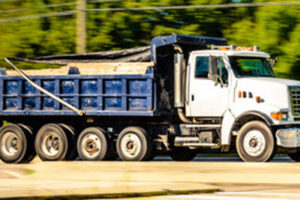 When two vehicles of vastly different sizes collide, the result is often catastrophic. Fatalities are common.
Sadly, this was recently the case in New Jersey. A young woman was killed after a dump truck collided with her sedan at a gas station. The fatal accident occurred just after noon on June 1 in Lawrence Township.
A dump truck and sedan collided at a Shell station located near Route 1 and Franklin Corner Road. The two vehicles crashed into a gas pump.
The driver of the dump truck suffered moderate injuries, but they are not determined to be life-threatening. The driver of the sedan, an 18-year-old woman from Lawrenceville, died at the accident scene. No other details about how the crash occurred were released.
Southbound Route 1 was closed for a while as police investigated. The crash is still under investigation.
Dump Truck Accidents
Dump trucks can often be found on roadways, particularly around dumps and construction sites. Dump trucks are large, heavy vehicles that can weigh many tons.
Many minor dump truck accidents are caused by flying debris. You might have gotten windshield damage from a rock or other object hitting your vehicle. Serious crashes are not as common, but they do occur. In fact, they have been on the rise in the past five years.
Besides debris, many dump truck accidents are caused by tipping over. Overloading and uneven roads are often to blame. However, most crashes are caused by driver error. These errors are often caused by drivers who are inexperienced, overworked, or tired. These situations make drivers less likely to be alert and react to road hazards and other situations in time, making accidents more likely to occur.
Dump trucks can haul a lot of cargo, making them very heavy. Here are some other reasons why dump truck accidents can be serious:
Dump trucks sit higher off the ground than other vehicles, so underride accidents are more common.
Dump trucks have massive blind spots all the way around them. When you are next to a dump truck, the driver cannot see you, making accidents common.
Dump trucks have a high center of gravity. This can lead to physical imbalances and even rollovers.
Sometimes dump trucks can dump their load inadvertently or prematurely, causing nearby vehicles and people to be damaged or injured.
Contact a New Jersey Personal Injury Lawyer Today
Car accidents can happen at any time, without more than a moment's notice. Many of these crashes are serious or even fatal, especially when larger vehicles are involved.
Unfortunately, car crashes are a common occurrence on New Jersey roadways. If you have been affected, get the help you need from a Morristown car accidents attorney from The Law Offices of Michael P. Burakoff. We can help you recover compensation for your medical expenses, lost income, pain and suffering, and other damages. To schedule a free consultation, call our office at (973) 455-1567 or fill out the online form.
Source:
abc7ny.com/two-car-crash-fatal-collision-route-1-dump-truck-accident-new-jersey-crashes/13330424/