Teens Rescue Girl From Pitbull In New Jersey Dog Attack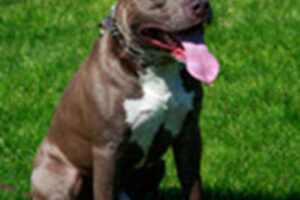 It can be scary to step in when a mean dog is attacking someone, especially a stranger, but three teens came to the rescue of a girl who was recently attacked by a pitbull in a New Jersey park. The girl was injured but later released from the hospital. Her mom was ecstatic that the Good Samaritans saved her daughter's life.
The dog attack happened on the afternoon of February 14 at Madison Park, located in Pennsauken. A teen was sitting in a car with two friends when he saw a pitbull wrestling with the 9-year-old girl. They thought the girl was playing with the dog, but once they heard her screams, they realized she was being attacked.
The three teens jumped into action, using chairs and trash cans to get the dog off the girl.
Her mother rushed her to Cooper University Hospital. The girl suffered multiple injuries, including a bite on her right forearm, multiple puncture wounds, abrasions, and scratches on her back. She has since been released from the hospital.
The girl's mother used social media to track down the Good Samaritans. They were connected by a family friend of one of the teens. The girl and her grateful mother met up with the teens at the park several days later to give thanks. The teens brought balloons for the girl.
Pennsauken police said the dog's owner is expected to face criminal charges because the dog was not licensed. A judge will decide the dog's fate. The incident is under investigation.
Dog Attacks
Victims of severe dog attacks often suffer scarring, disfigurement, broken bones, and other injuries. In some cases, these injuries require more than $1 million in long-term treatment, including reconstructive surgery, skin grafts, and scar diminishment.
Studies show that pitbulls cause most dog attacks. Because of the dangers they pose, these dogs have been banned from many countries. However, there are other dog breeds that are considered dangerous. For example, rottweilers are not good family dogs because they have bad tempers and need continuous training in order to be good pets. German shepherds are highly intelligent dogs that are often used in police departments. However, when they bite, the force is very powerful, causing death. American bulldogs are very agile and strong, and while they can be friendly, they also cause a large number of fatalities.
Contact a New Jersey Personal Injury Lawyer Today
Dog attacks can happen anywhere, even when an adult is walking down the street or when a child is playing at a local park. People need to be aware of strange dogs at all times so they can prepare for an attack.
Have you or a loved one been attacked by a mean dog belonging to someone else? If so, a Morristown dog bite injury attorney from The Law Offices of Michael P. Burakoff can help you with your case. Let us help you obtain full and fair compensation. Fill out the online form or call (973) 455-1567 to schedule a free confidential consultation.
Resource:
nj1015.com/they-are-my-superheroes-nj-teens-help-girl-escape-pit-bull-attack/