String Of Dog Bites Reported In Nutley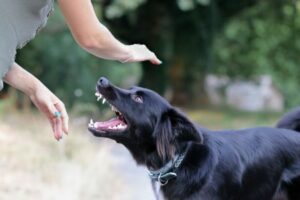 While dogs can bite suddenly for unknown reasons, a lot of dog attacks have to do with aggressive behavior. When dog owners don't train their dogs or work on their behavior, it can lead to biting. And these bites can happen to strangers, neighbors, and even family members living in the home.
In just a period of one week, there was a string of dog bite incidents reported to the police department in Nutley, New Jersey. In three separate incidents, people were bitten by dogs, with several other incidents involving dogs.
The first case happened on April 17 on Booth Drive. A 76-year-old man was found face down in the street. While a dog did not bite the man, the man was walking his dog at the time. He was bleeding from his head after losing his balance. He was taken to a local hospital for treatment.
Several days later, on April 20, a teen was playing behind Radcliffe School when he was bitten by a dog. Two dogs were unleashed at the time and one bit the 15-year-old boy. The boy was treated at the scene. Later, the dog's owner went to police and provided information about the dog, such as license and vaccination records.
Two day later, on April 22, there was another dog attack in the area. A woman was walking near Grant Avenue and Hampton Place in Nutley when she was attacked by a small dog. The 32-year-old woman was taken to a medical facility and given a rabies shot in case the dog was not vaccinated, as the owner was never located.
The next day, on April 23, there was another dog bite incident in Nutley, this time on Plymouth Road. A 40-year-old woman claimed that a golden retriever escaped from its home and attacked her. The dog bit her on the back of her leg and injured her. She was treated at a local hospital. The dog was unlicensed and the owner was given a summons. The golden retriever has been under quarantine.
Nutley is no stranger to dog bites. There was another incident in the town not long ago. On March 3, a person was walking near Nutley Avenue and Washington Avenue when they were attacked by a small white dog. The dog ran off and could not be located. Emergency crews responded and treated the victim's wounds, which included injuries to the right leg and arm.
Contact a New Jersey Personal Injury Lawyer Today
Dog attacks are on the rise, as irresponsible pet ownership plagues the country. Many people are going back to work now that the threat of COVID has decreased and that means dog owners are spending less time at home. This can cause behavioral issues.
A lack of attention and training can lead to dog bites. If you have been affected, seek legal help from a Morristown dog bite injury attorney at The Law Offices of Michael P. Burakoff. We can advise you, guide you, and represent you to a successful outcome. Get started with a free consultation. Call (973) 455-1567 or fill out the online form.
Source:
patch.com/new-jersey/belleville/nutley-residents-report-string-unusual-incidents-involving-dogs