Salmonella Outbreak in Ground Beef Leaves More Than a Dozen Ill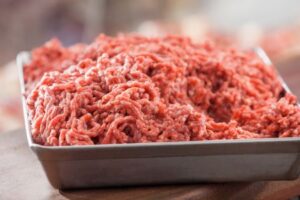 Many people buy ground beef to make hamburgers, tacos, meatloaf, soup, chili, egg rolls, spaghetti, and other delicious meals. We assume that the food we buy at the store is safe for consumption, when properly cooked.
But when it comes to refrigerated or frozen products, such as meat, bacteria can get into the food, causing serious illness. This recently happened to lean ground beef sold in various stores throughout New Jersey and surrounding states. To date, 16 people have become ill due to a salmonella outbreak.
The outbreak has been linked to 80% lean ground beef sold in ShopRite stores in New Jersey, New York, and Connecticut. Of the 16 people who have gotten sick from consuming the meat, six have been hospitalized.
The source of the ground beef is still unknown, but Investigators are working to identify it. One person also reported salmonella in Massachusetts, so the outbreak may not be limited to the states with known cases. Of the 16 people who reported being ill, nine had purchased ground beef from different ShopRite stores. The source of the remaining seven cases is still unknown.
The salmonella illnesses occurred between April 27 and June 16. No new illnesses have been reported since then. ShopRite is still selling the affected ground beef, as the U.S. Department of Agriculture has not recommended a recall.
Ground beef is commonly associated with salmonella bacteria, as salmonella germs live in the intestines of people and animals. The germs can be spread through contaminated water and food, as well as the surfaces where food is prepared. Salmonella can only be killed when the beef is cooked to 160 degrees Fahrenheit. If the ground beef is undercooked, it can make people sick with salmonella, which can cause diarrhea, stomach cramps, and fever.
Keep in mind that it's not just meat that is susceptible to contamination. Over the last few years, salmonella outbreaks have involved produce and vegetables as well.  In 2018, a salmonella outbreak was linked to precut melons from a food distributor in Indiana. This led to products being recalled in eight states. In 2020 and 2021, salmonella was linked to red onions grown in California. This was a massive outbreak affecting more than 640 people in 43 states.
Contact a New Jersey Personal Injury Lawyer Today
The foods we buy regularly are not always safe for consumption. Bacteria can easily contaminate foods, causing consumers to get seriously ill. People have even died from these outbreaks.
If you have become ill due to food poisoning caused by a manufacturer's negligence, seek legal help from a Morristown product liability attorney from The Law Offices of Michael P. Burakoff. You will need to file a claim to get the compensation you deserve and it won't be easy. Our experienced team can assist you. Schedule a free consultation today by calling (973) 455-1567 or filling out the online form.
Source:
nytimes.com/2023/07/26/health/salmonella-ground-beef.html