Middletown Sewerage Authority Dies In Workplace Fall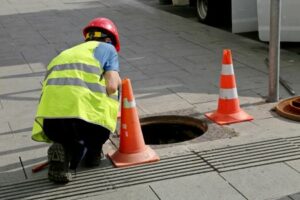 We expect the workplace to be relatively safe, but the truth is that accidents happen quite often. Many cause minor or severe injuries, while others result in fatalities. These unexpected deaths can be devastating to the families they leave behind.
An employee with the Middletown Sewerage Authority has died while on the job. He had fallen and was found at the bottom of a hole. The fatal accident happened on the afternoon of May 31 at the sewage treatment plant, located in Belford.
Middletown Police and firefighters responded and found the man at the bottom of a hole. There were no details on how the accident occurred. However, there was an odor of methane gas present when the man was found.
The victim was a 47-year-old man who lived in Hazlet. He worked for many years for Middletown Township before accepting a position with the Sewerage Authority. He was considered to be one of the most valuable employees at the sewage treatment plant. The man  left behind three children and a fiancee.
The man's death is being investigated by Middletown Police. Middletown Sewerage Authority is cooperating with law enforcement and other agencies to determine the cause of the man's death. The Monmouth County Prosecutor has also been notified.
The worker's death is currently under investigation by Public Employees Occupational Safety and Health (PEOSH). Similar to the Occupational Safety and Health Administration (OSHA), PEOSH is a New Jersey state agency that investigates workplace accidents and deaths that occur on public jobs.
Falls in the Workplace
Falls can happen on any job site, but they are particularly common in certain industries. For example, the construction industry experiences the highest frequency of fall-related deaths.  Nonfatal fall injuries are most likely to occur in the wholesale and retail industries and health services fields. Those who face the highest risk of fall injuries are those who work in:
Construction and extraction occupations
Transportation and material moving
Healthcare support
Building cleaning and maintenance
Falls in the workplace often involve:
Slippery or cluttered walking areas
Unsafely positioned ladders
Floor holes and wall openings
Unprotected edges
Misused fall protection
However, the main causes are:
Wet/slippery floors
Poor housekeeping
Uneven floor surfaces
Unsuitable floor coverings
Poor lighting
Changes in levels
You can prevent slips, trips, and falls by being proactive and using a common sense approach. Spills should be cleaned up immediately. Poor lighting should be fixed as soon as possible. Any
wet floors should be identified through appropriate signage. Workers can access uneven levels through handrails and ramps.
Contact a New Jersey Personal Injury Lawyer Today
Workplace accidents can be deadly, as seen in this case. Even something that happens quite frequently, such as a fall, can have serious consequences.
Injured while on the job? A Morristown work-related accident attorney from The Law Offices of Michael P. Burakoff can help you understand your legal options. Call (973) 455-1567 or fill out the online form to schedule a free consultation.
Source:
patch.com/new-jersey/middletown-nj/middletown-sewerage-authority-dies-after-workplace-fall